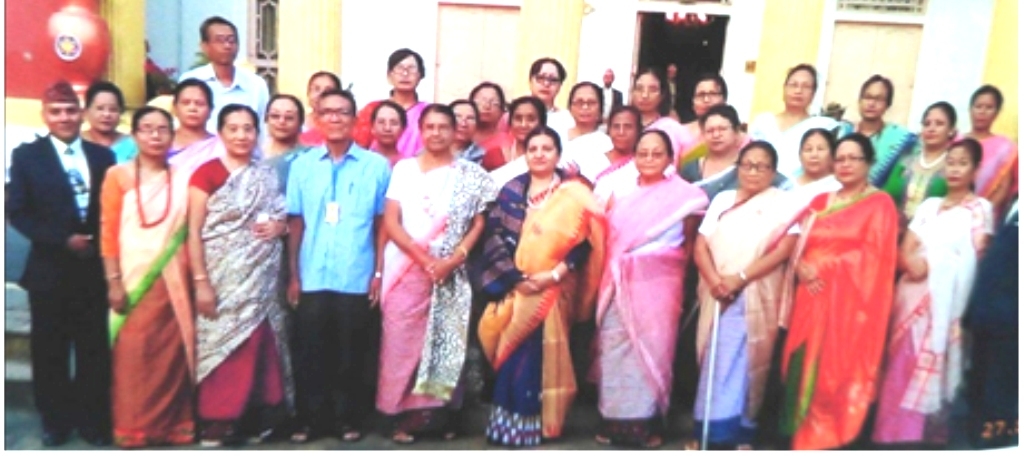 Imphal, Oct. 6:  As part of the observance of 218th Death Anniversary of Manipur King Rajrisi Bheigyachandra, a series of cultural programmes have been held at various pilgrimage sites including Murshidabad in UP where the king breathed his last over two centuries back.
A 30-member cultural troupe of All Manipur Raseshori Pala Marup led by its president Dr. Chongtham Jamini Devi performed the Sankirtan programme here at Murshidabad yesterday evening. The performance followed a symposium on the life of the saintly king Bheigyachandra Maharaj held at the auditorium of Shripath Singh College at Murshidabad with participation of intellectuals and cultural activists.
Earlier, the all-woman cultural team visited Kathmandu, the capital of Nepal and met its president Shrimati Vidhya Devi Bhandari at her residence on September 28 last and discussed the various cultural affinities between the Himalayan nation and Manipur state. The team also presented a cultural performance at the Pashupatinath temple in presence of the head of the state of Nepal.
On its way back, the all-woman team took part in the observance of death anniversary of Rajrishi Bheigyachandra at Nabadwip in Nadia district of West Bengal by presenting a Sankirtan performance at Annuprabhu temple on October 4 last. As part of the observance at Nabadwip, a seminar cum discussion on the Bheigyachandra's life was held with Dr. Ch. Jamini Devi acting as Chief Guest. A number of cultural troupes from Manipur also presented their performances on the occasion.
The Raseshori Pala team, which left Imphal on September 25 for Kathmandu, visited various pilgrimages during its journey to Nepal, Nabadwip Dham and Murshidabad.
Raseshori Pala, initiated by King Bheigyachandra's daughter Bimbabati in the year 1779, is the first all-woman Sankirtan group in the service of Lord Govindaji. Prior to its birth, Sankirtan performance by women in rituals had not been allowed.