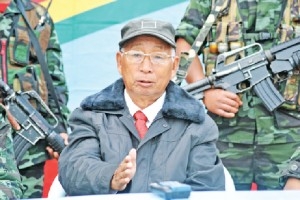 NSCN(K) leader SS Khaplang, whose outfit carried out the June 4 attack on the Army in Manipur, is believed to be ill and convalescing in a Yangon hospital, reports PTI.
75-year-old Khaplang, suffering from old-age related ailments, was shifted from his base in Tago, located along the Sino-Myanmar border, to Myanmar's biggest city Yangon about four months ago, official sources said. Myanmar had informed India about shifting Khaplang, who is a Myanmarese national, to Yangon in February and New Delhi had conveyed its no objection to that, sources said. The NSCN-K was then in a ceasefire agreement with the government. However, barely a month after being shifted, the outfit ended the agreement.
"We believe Khaplang continues to be in Yangon, undergoing treatment," a senior official said.
Khaplang is a Hemi Naga from Myanmar and was born in April 1940 in Waktham village east of Myanmar's Pangsau Pass, through which passes the 1,763-km Stilwell Road from Ledo in Assam to Kunming in China.
Khaplang had said he first attended a school in Margherita in Assam before joining the Baptist Mission School in Myitkina, Kachin, in 1959 and going to another missionary school in Kalemyo in 1962 before he eventually dropped out.
The insurgent leader, along with Isak Chishi Swu and Thuingaleng Muivah (NSCN-IM leaders) revolted against the Shillong Accord of November 1975 which was signed by Angami Zapu Phizo's Naga National Council.
The three leaders then formed the NSCN (Nationalist Socialist Council of Nagaland). In April 1988, Khaplang announced the formation of NSCN-K after making an unsuccessful attempt on Muivah's life.
Khaplang now heads the recently floated United National Liberation Front of Western South-East Asia that includes five more rebel outfits from the northeastern region, including ULFA, PLA and NDFB(S).