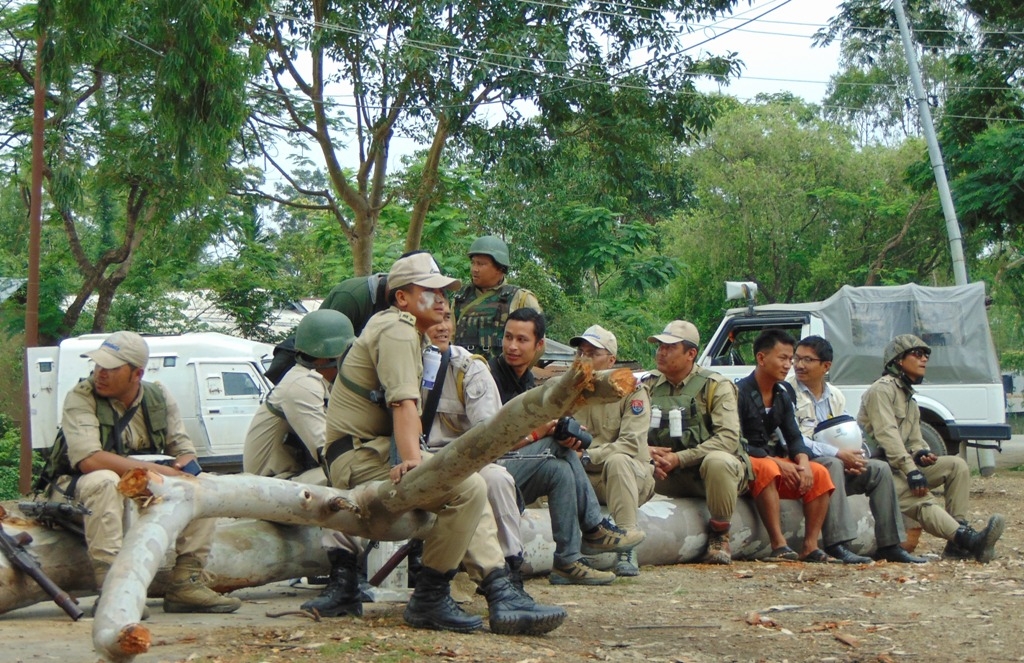 The 24 hours general strike called by the JAC against the brutal killing of M. Dayananda and M Premananda and inhuman torture of K. Bishal at Mapou Khullen has severely affected normal life in Imphal West district as strike supporters stopped all sort of traffic along the route. Tyres were burnt in the middle of the road along at various places in between Langjing to Moidangpok area at NH-3. Women volunteers in large number were seen stopping passerby at Tera area in NH-37. Almost all shops and business establishment at Imphal West area were shut down, banks and entertainment houses remain closed. Schools, colleges and almost all offices in Imphal city were completely paralysed. However, the general strike failed to give any impact at other districts of the state.  Our reporter said that except at Imphal-Jiribam road many private vehicles and passenger auto were seen plying on the road at other part of the district including the Khwairambandh keithel area even though shops and women vendors remain shuts. He however said that inter district and inter state passenger bus service were suspended during the general strike. 
On the other hand locals of Haobam marak today staged a sit-in-protest at Haobam marak area condemning the killing of the two labourers as well as assault to the 12 years old student Bishal who hails from Haobam Marak area. The protestors demanded immediate punishment of the culprits involved to the killing of the two labourers and assault of the minor boy who is presently undergoing treatment at Shija Hospital in critical condition.
At Langjing area, agitators came out at the streets in large number and burn plank and woods in the middle of the road to prevent traffic along the route. Police team face hard time in controlling the agitators.
At Moidangpok area, police team had to fire several rounds of tear gas shell and mock bomb to control agitators. According to our reporter large number protestors today went hostile after some people notice a truck with loads of rice bag was seen passing through the street violating the general strike called at around 11 am today. The protestors than started gathering at the street and as the motives seemed to be bad, police fire the tear gas shell and mock bomb to disperse the protestors.
Mentioned may be made that the state government has taken the issue arises out of the murder of two labourers and assault of a 12 years old boy by cadres of SoO signatory KRF. A cabinet meeting convened yesterday had resolved to take up the issue for violation of ground rules by the rebel group under suspension of operation with the Union Ministry of Home Affairs.