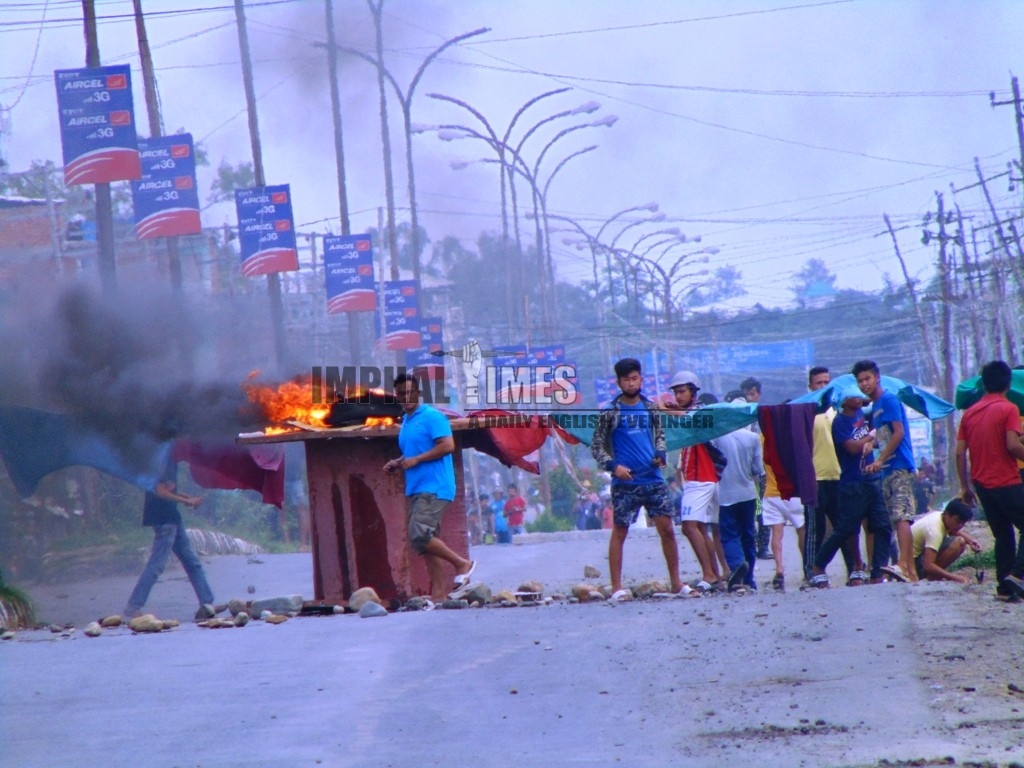 Even though the curfew imposed in both the Imphal East and Imphal West has entered 5th day , there is no turning back to the public protest demanding implementation of the Inner Line permit Act in the state. The momentum of the protest is on the rise  with people demanding immediate punishment of the cops involved in the killing of Class XI student, Sapam Robinhood during a democratic protest at Telipati in Imphal East on July 8. It was after the dead of the student that government imposed public curfew in both Imphal East and Imphal West to bring the situation under control. But contrary to what the government has expected people at various areas of both Imphal East and Imphal West came out in the street and prevented vehicular movement on the street by burning tyres in the middle of the road and by putting planks and electric post. The supporters of the JCILPS shouted various slogan against the state government failure to punish those police personnel involved to the killing of the student and as well as those responsible for the injuring of the several other students.
At may places after the district administration reimposed curfew from 12 noon today, several women folk staged sit-in-protest at various places using placards demanding implementation of ILP as well as punishment of the cop responsible for the dead of the class XI student.
Several such protest were staged at Iroisemba, Langjing Achouba, Yaiskul Police lane, Khurai Popular High School, Chingarel, Sawombung, Sekta, Yorbung, Lamlai, Nongada, Khurai Tinseed Road, Singjamei Chinga Mathak, Singjamei Mayeng Leikai, Singjamei Okram Leikai, Luwangsangbam, Naoremthong, Sagolband, Uripok, Heirangoithong, Kongba etc.
At some of the places like Kakwa Nameirakpam leikai the protestors went hostile and started attacking the police by throwing pebbles and using sling shots. The police fire several tear gas shell to disperse the protestors.
Meanwhile, almost all civil society organisations in the states including the political parties accept for the congress party are showing solidarity to the demand for implementation of the Inner Line Permit System in the state. 
The protest has also spread across Thoubal district and Bishnupur District too. Several organisation staged protest demonstration by staging sit-in-protest and rally at Wangjing, Kumbi, Moirang etc.
All Manipur Matam Ishei Kanba Lup, AMMIK, Kanglamei, Chanura Lamjing Lup (CLK), NIPCO, AMUCO, UCM among others condemn the government failure to response to the demand of the general public.
Political parties like the BJP state Unit, Janata Dal, CPI , MPP also criticise the Home Minister Gaikhangam statement at the Manipur Legislative Assembly session at which he said that it was not the fault of the police to the dead of the class XI student at Telipati on July 8.