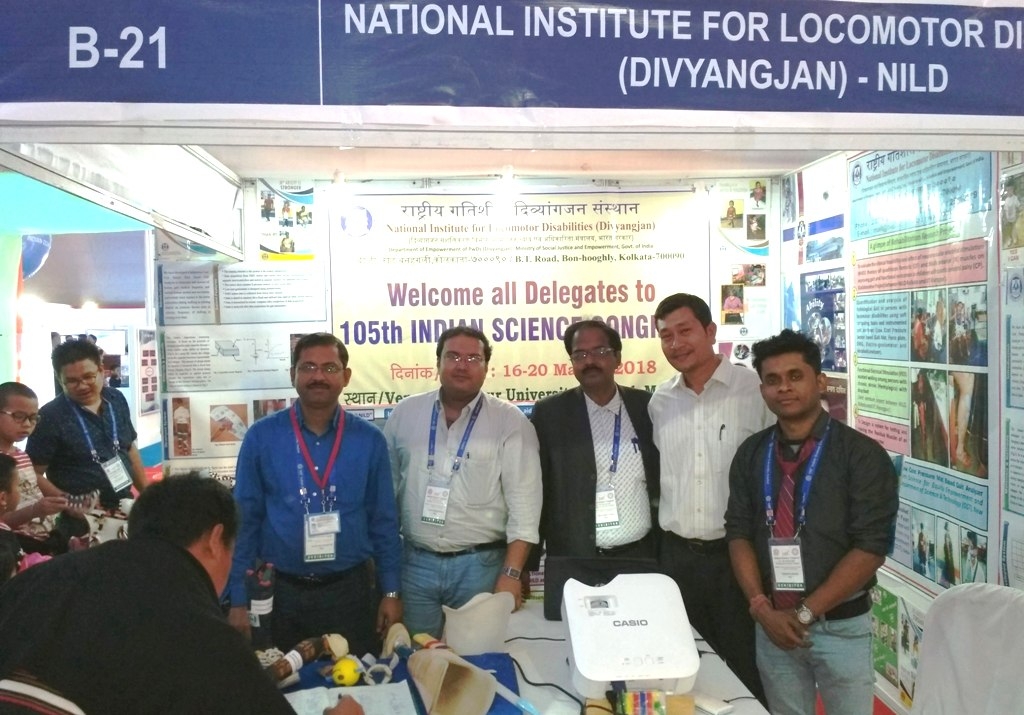 Imphal, March 18:    National Institute for Locomotor Disabilities (Divyangjan)-NILD, Kolkata under Department of Empowerment of Persons with Disabilities(Divyangjan), Ministry of Social Justice and Empowerment, Govt. of India also took part in the 105th  Indian Science Congress-Pride of India Expo-2018 being underway at Manipur University, Imphal from Marhc 16.
Team of Professionals headed by Mr. Aratatran Patra with other team members Mr. Nayan Roy Chaudhuri, Mr. Durbadal Biswas and Mr. Sudip Kumar Mondal demonstrated their activities. NILD, Kolkata developed a low cost eWalkNILD gait mat analyzer and it was very much attracted by the visitors. The indigenously designed and developed eWalkNILD is much more affordable than the similar equipment available in the market.
They also demonstrated various Prosthesis and Orthosis for the Persons with disabilities and the different Schemes, facilities available for Persons with Disabilities.
Dr. Abhishek Biswas, Director, NILD, Kolkata is taking initiative to establish a Composite Regional Centre at Imphal, Manipur. Discussion is going on with Govt. of Manipur for the suitable land.
NILD, Kolkata started a CBR Project in collaboration with Spastic Society of Manipur and there will be 5 days workshop on "Comprehensive Rehabilitation and Community Based Approach" will be held from 19.3.2018 to 23.3.2018 at Imphal Press Club where 50 participants expected to participate.