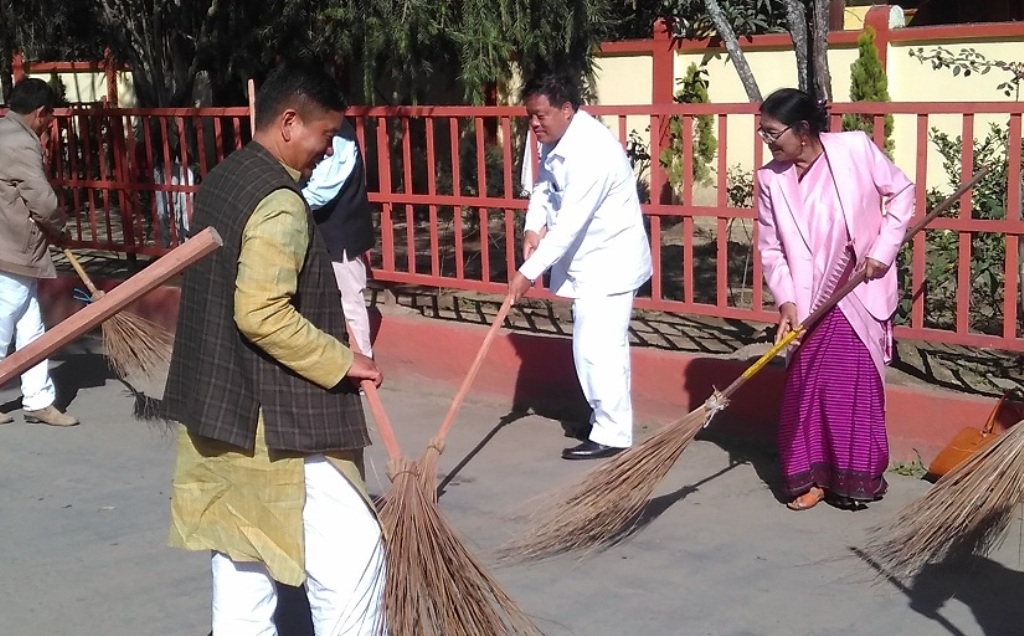 By a correspondent
Imphal, Nov 13,
Proper waste management and a clean environment is required while developing a good, progressive and healthy society.
This was conveyed by most of the speakers while sharing their opinion and observations during the Swachh Seva Programme held at GM Hall premises in Imphal this morning.
The Convenor of North East Swachh Bharat Mission (SBM) Sotai Kri, BJP national executive and former MLA Meinam Bhorot and SBM Brand Ambassador N Ibohal Singh along with BJP Manipur Mahila morcha leader Sh Seitabhama,Mayor L Lokeshwor Singh of Imphal Municipal Corporation and others attended the program.
Delivering key note address , SBM member RK Dilip Singh said a total of 4,42,396 houses across 16 districts of Manipur have access to latrine while 27 towns including the state capital has been declared Open Defecation Free (ODF) on August 10, this year.
Informing that  North East SBM Convenor led team is in Manipur to activate the SBM besides monitoring its progress in the region, RK Dilip Singh who is the former Director of Communication and Capacity Development Unit of state Public health engineering department, said waste management and clean environment are essential to make people healthy and progressive.
In his address, the visiting Convenor of NE (SB) Mission Sotai Kri  who is also advisor of Arunachal Pradesh Chief Minister appealed to the people of Manipur to keep clean the towns and state besides natural resources for a better and healthy life.
SBM Brand Ambassador N Ibohal and Mayor Lokeshor also also spoke on the occasion.
Later Sotai Kri led 16 members Arunachal team along with some state SBM functionaries left for Moreh.
It may be worth mentioning here that Sikkim becomes India's first ODF state in India in 2008. Arunachal Pradesh achieved ODF on December 31 last year while Manipur was declared as 23rd ODF state on October 2, 2018. It may worth mentioning here that SBM was launched in October 2014 by Prime Minister Narendra Modi, setting October 2, 2019 as the deadline. The day marks 150thbirth anniversary of Mahatma Gandhi.