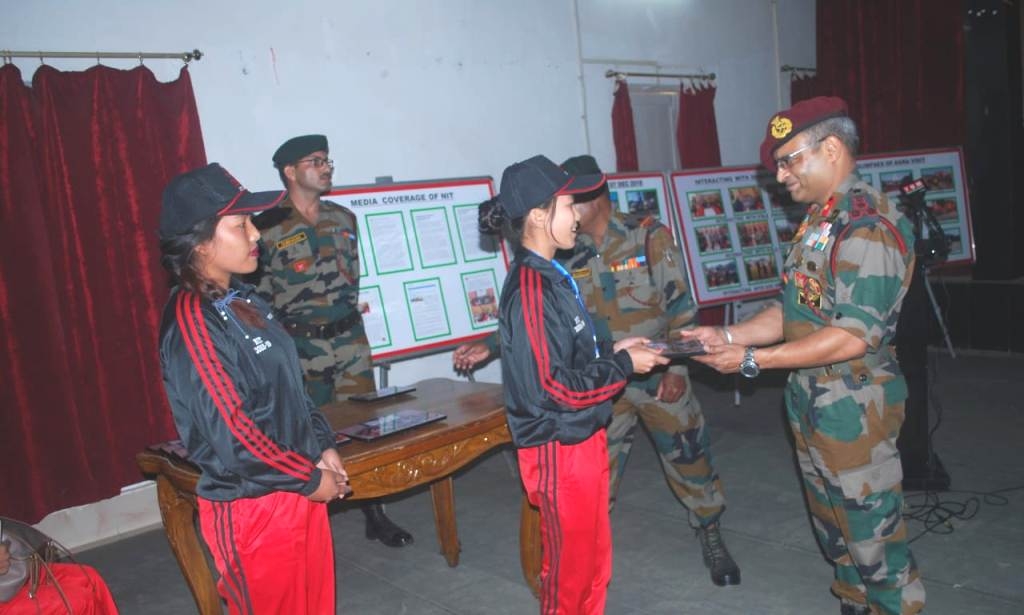 IT News
Imphal, Dec 24,
A  15 day long National Integration Tour to Delhi and Agra, comprising of 20 children and three teachers from the far flung area of Joupi, Manipur, concluded on 23 Dec 2018 at Kakching. It was flagged in by Brig Neelish Bhanot, Sena Medal, DIG 28 Sector Assam Rifles. Brig Bhanot, in his address to the children, parents and media personnel, laid emphasis on the important role of these young minds in shaping the future and bringing development, peace, harmony in the state. He later interacted with the children and parents and gained a firsthand account of the tour from the children. The DIG concluded the event by presenting each child with a memento, which was a framed group photo with the Hon'ble President of India, Shri Ram nathKovind. The children were elated and will cherish the gift for the rest of their lives.
The tour visited the national capital, Delhi and the historically rich city of Agra. During the interaction with the DIG, 28 Sector Assam Rifles, the children revealed that they were ecstatic during the tour, which provided them an opportunity to experience many things for the first time. A few events which are etched in their memory included travel by train and the Metro for the time, visit to historical monuments like the Lotus Temple, Red Fort, Humayun Tomb, Nehru Planetarium, Qutub Minar, Agra the children witnessed deadly unarmed combat techniques and rock climbing displayed by Para Commandos.
The highlight of the tour, according to the children and the teachers, was the interaction with the President of India Ram Nath Kovind. Two of the children shared their experience of the tour and their lives in their villages with the President of India. The Hon'ble President motivated the children by addressing them, highlighting the important role they held in shaping the future of the country. They also had an interactive session with Hon'ble MoS, PMO Dr Jitendra Singh and Maj Gen Rajpal Punia, COS Delhi Area, who both exhorted them to work hard and contribute actively to the nation building process.
The tour has exposed these young minds to discover the culture, technological advancements and architectural splendor of India. The tour has indeed been a life changing experience for the children and hopefully, will motivate them to work towards higher aims in the life.