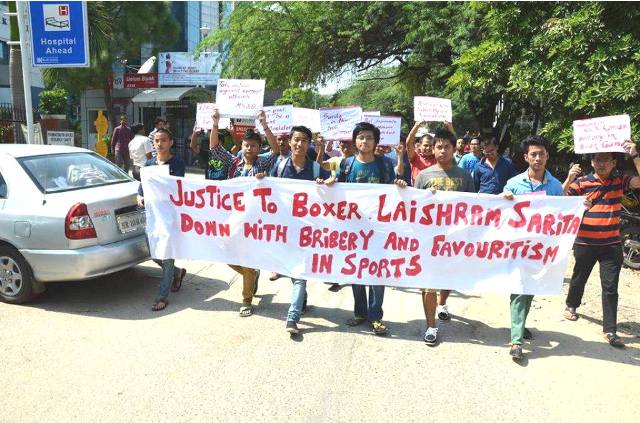 IT News
Imphal Oct 3: Manipuri Students' Association, Dehli (MSAD) today staged a protest in front of the Indian Olympic Association demanding justice to boxer Laishram Sarita who had been eliminated in the Semi-Final bout by a bias decision by the judges.
A large number of the students residing at Delhi hold placards read as "Justice to Boxer Laishram Sarita", "Down with bribery and favoritism in sports", "India learn from Mongolia Government", "take action against the corrupt officials", "IOA, don't you have $ 500 for Sarita", "Where is Modi's Shining India", "IOA speak up for justice" and "Do not ruin the true spirit of Sports."
On the other hand,Even though people across the country seem to have showed support to L Sharita Devi over the bias judgement in the 60 kg semi final bout at Incheon Asian Games, nobody turned up to received the Manipuri pugilist on her arrival at Indira Gandhi International Airport at New Delhi. Sarita is presently lodging at a Hotel in New Delhi along with her husband She is expected to arrive at Imphal Airport tomorrow at 11 am.