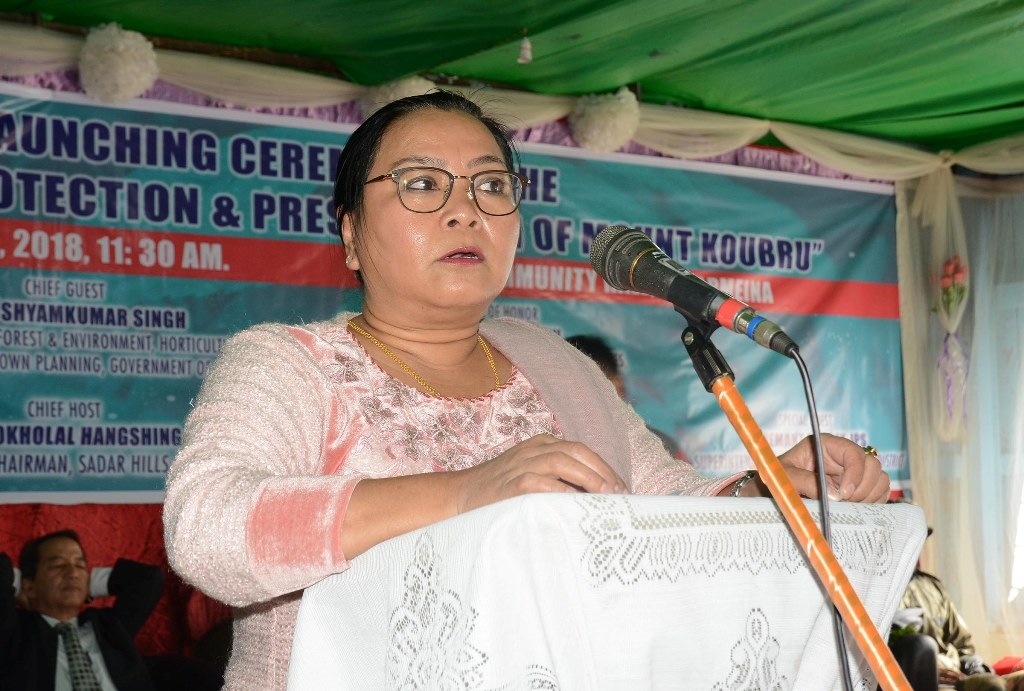 IT News
Imphal, Nov 27,
 Social Welfare and Cooperation Minister Nemcha Kipgen launched the Committee on Protection & Preservation of Mount Koubru (COPPK)under the motto 'Save Mt. Koubru'at a function held at EBCCF Community Hall, Saparmeina, Kangpokpi District on Monday.
Speaking on the occasion as Chief Guest, Minister Nemcha apprised about how essential Mount Koubru is for the state, Manipur and Kangpokpi District in particular, as it played a very significant socio-cultural and economic role for people residing in and around it. She also expressed that though the mountain ranges have been abundantly providing various forest products and resources; unwanted intrusions and destructive activities are frequently reported. Minister stated that the emergent of such organisation to protect and preserve Mount Koubru, is the need of the hour.
Minister Nemcha appealed all to come forward and take the initiative to protect, preserve and save Mount Koubru in its natural state and maintain the ecological balance. Only through the collective efforts of all, unwanted Intrusion to Mount Koubru can be stopped, she added.
While delivering a keynote address, Advisor to COPPK, Tongmang Haokip IRS (Retd.) pointed that the very objective and purpose of this committee was an attempt to check rampant destruction of the flora and fauna of the region. He asserted that COPPK will spearhead the movement to educate the masses and spread awareness on how to restore back Mt. Koubru to its originality and essence.
Deputy Commissioner, Kangpokpi District, Dr. Rangitabali Waikhom and Deputy Chairman, Sadar Hills, ADC, Thangkam Misao graced the occasion as Special Guest and Functional President respectively.