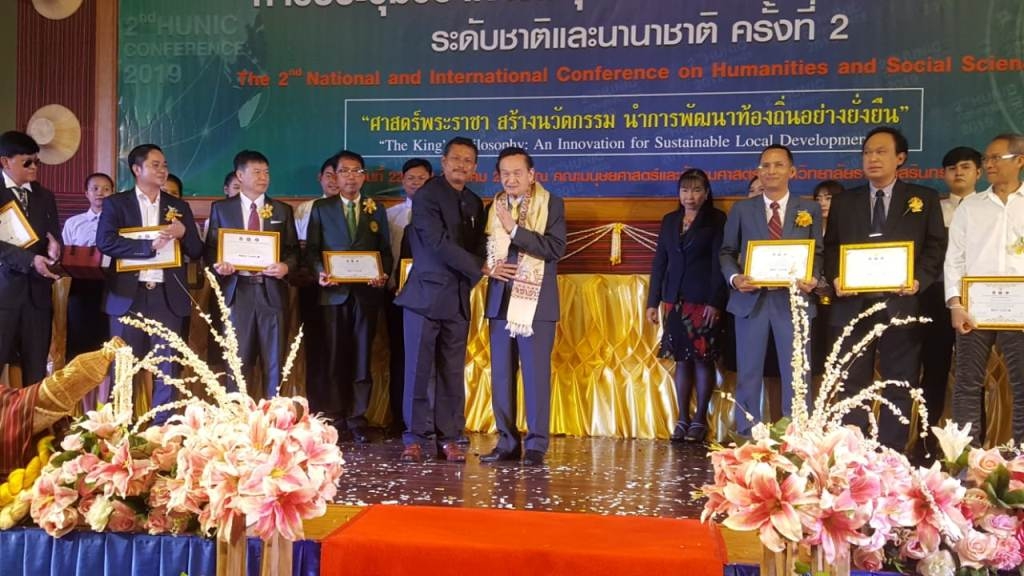 IT News
Imphal, Aug 22
Titular king of Manipur, Leishemba Sanajaoba participated in the 2nd International HUNIC Conference, 2019, held in Thailand as a Special Guest, becoming the first one from Manipur. Organized by the Humanities and Social Sciences, Surindra Rajabhat University, Surin Province, Muang District, Thailand, the inaugural function was held on August 22, 2019. Maharaja Leishemba was one of the distinguished guests, which included Chancellor of the S.R. University, Deputy Governor of Surin, Muang District, and eminent scholars from Laos, Vietnam, Cambodia, Thailand, etc.
He was felicitated with "A Certificate of Honour" by the Chancellor, and, in return, the Maharaja also presented Lengyan Phee of Manipur to the Chancellor and other distinguished guests present. While speaking at the gathering, Leishemba Sanajaoba expressed delight to have been invited at the conference and various similarities between Thailand and Manipur, such as culture, lifestyle, rituals, food habits, attires, physical anatomy, etc.
He further added that just like Thailand, Manipur was once a sovereign kingdom for thousands of years before it became a part of India in 1949. Manipur had its unique civilisation and history, he said, and had a close historical relationship with Thailand. The Maharaja expressed his hope for the return of the close relationship between Thailand and other South East Asian countries and Manipur with the coming of the India's Act East Policy. He concluded his speech praying for love and peace to restore in the regions.