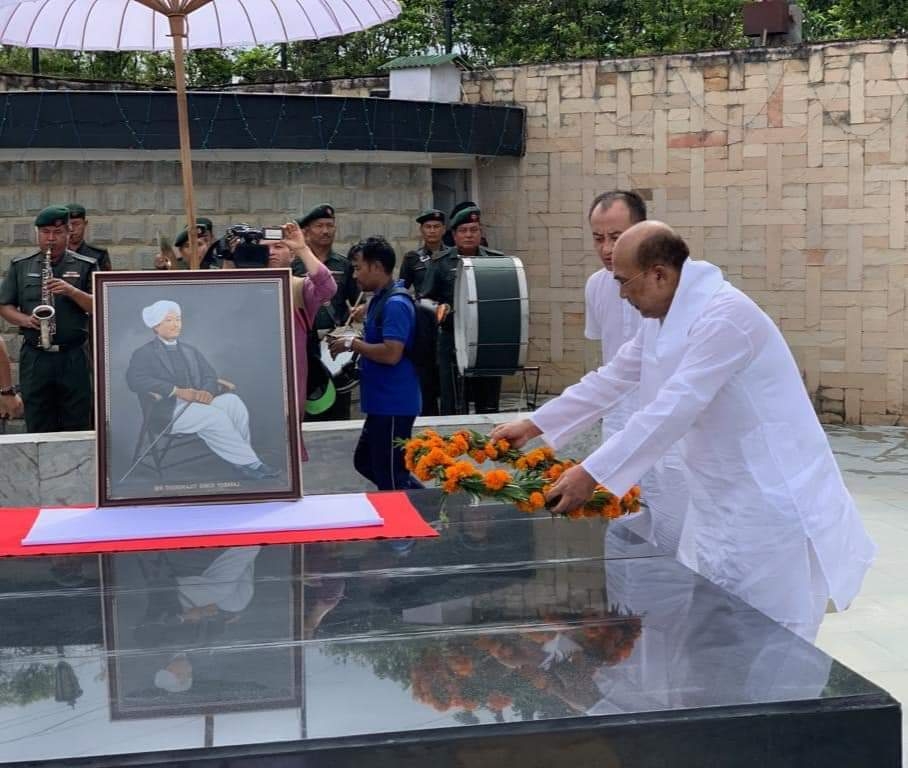 IT News
Imphal Aug 13,
Remembering the martyrs who laid down their lives fighting against the British Empire during the Anglo Manipur War of 1891, Manipur today observed Patriots Day in every nook and corner of the state.
Today morning  the state function of Patriots' Day was organised by state government, floral tributes to the martyrs were paid at Hicham Yaicham Pat and Thangal General Temple complex situated in Imphal where Bir Tikendrajit and Thangal General were hanged to death by the British colonialist for waging war against them on August 13, 1981. 
Three rounds of gun salutes to the martyrs were also paid to the martyrs by a contingent of Manipur Rifles. 
Speaking to media persons on the sideline after paying tributes at Thangal General Temple, Chief Minister N. Biren stressed that the sacrifice the Patriots have done by the Patriots has made a place for the land in today's world and added that the people should not forget the sacrifices they made. 
 "There is no value and meaning of being a people of Manipur if we don't love our Motherland or doesn't have any feelings and spirits to save and protect Manipur", Biren added.
 He said that the love of the motherland cannot be shown by just mere words and added that such love could be shown by the actions we did for the land. 
Biren further stressed that following the footsteps of the patriots will be the way to show utmost respect to the martyrs who have died for the motherland.
 "The spirit of the patriots who fought bravely and died for their motherland even though they knew that they can't win the massive British colonialist should not be forgotten", he asserts.
He appealed the people to have such spirit and the love of the motherland.
 The function was attended by Chief Ministers and his council of ministers, top civil and police officials among others.