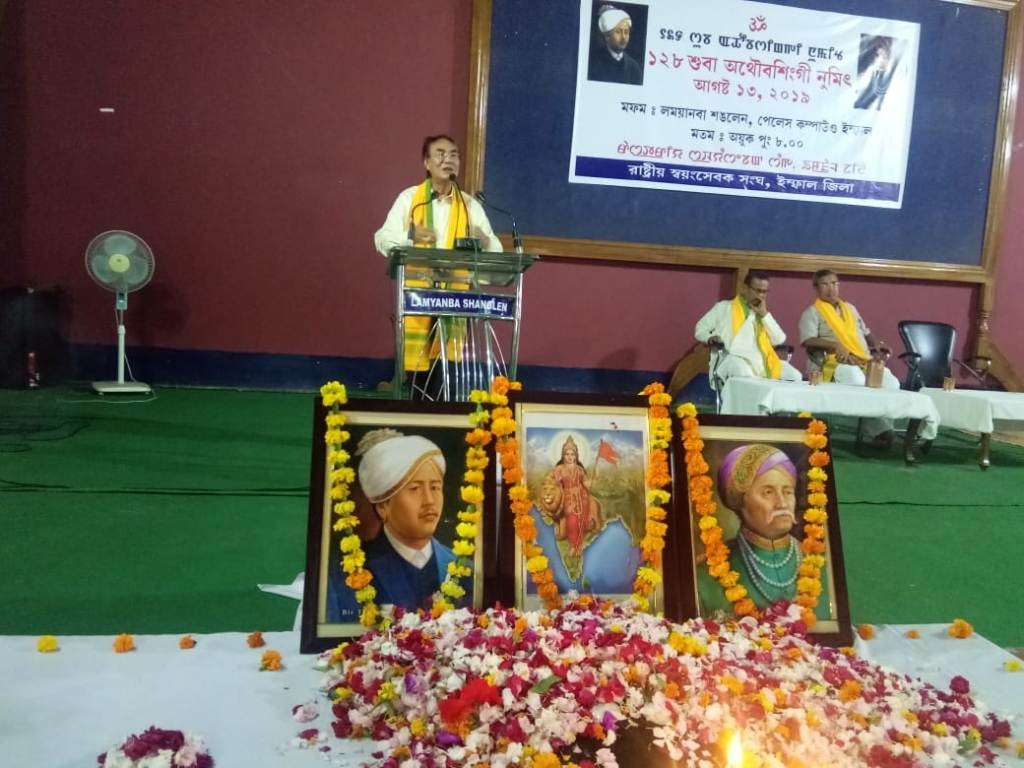 IT News
Imphal Aug13,
For the first time on Patriots' Day observance, photo of Bharat Mata was seen among two martyrs Bir Tikendrajit and Thangal General, when people pay floral tributes to the Patriots of Manipur.
The photos of it went viral on social media criticising the act of putting the photos together and bringing Bharat Mata on Patriots' Day of Manipur.
The observation of Patriots' Day was organised by Rashtriya Swayamsevak Sangh (RSS), Imphal Unit today remembering the martyrs who laid down their lives for Manipur fighting against the British colonialist in 1891.
Speaking to media persons Convenor of the organising committee said that the photo which was put between the two martyrs Thangal General and Bir Tikendrajit was a photo of Bharat Mata.  "The sacrifice by the martyrs is also a part of Bharat Mata", he stressed.
He said that Bharat according to their organisation RSS is not the geographical nation. He added that RSS is based on nationalism and when it comes to nation 'India' Manipur becomes a part of it though it wasn't earlier.
They believe to unite the minority groups without destroying their unique identity, he added.
He further said that they observed the Patriots' Day remembering the sacrifice the martyrs did for Manipur.
Joint students Coordinating Committee in a press meet boycott RSS from organising events related to the history of Manipur.
JSCC further demanded a public apology for misleading the history of Manipur.