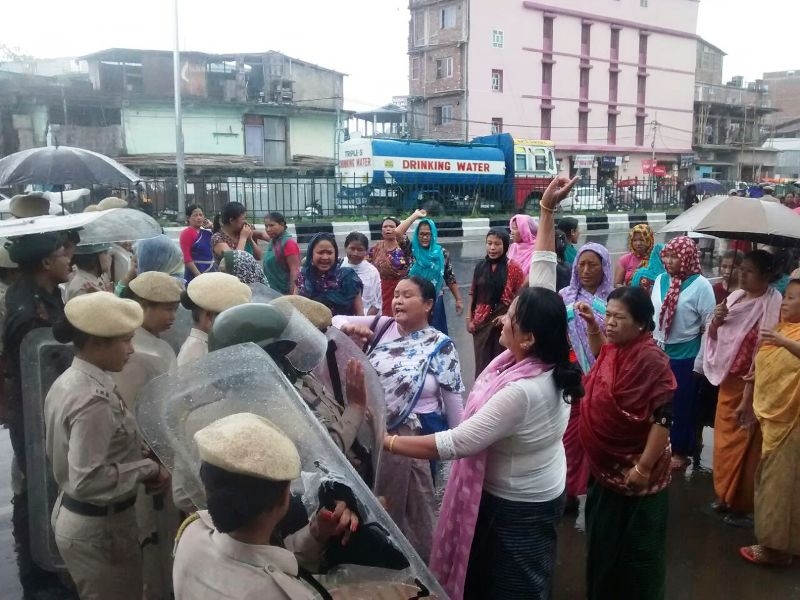 IT News
Police today foiled attempt by volunteers of JCILPS to storm at the Manipur Legislative Assembly Session on the last day at various area.
At Keishampat Junction, a strong team of police force prevented JCILPS Women's Wing volunteers from crossing beyond the area. The Women volunteers were setting toward Manipur Legislative Assembly to show their anger over the government failure to introduce a new bill for protection of the Indigenous people of the state.
The Women's Wing volunteers numbering around 100 of them gathered at JCILPS Office at Keishampat and started marching towards the Manipur Legislative Assembly where the last sitting of the Monsoon session was underway. 
Banner with slogans "we want ILPS in Manipur"   "Assembly session cannot conclude without passing the fresh ILP bill" were carried by the women volunteers.
Around the same timing large number of students under the aegis of the JCILPS Students' Wing also tried to storm the state Legislative Assembly from various point at Thangmeiband area.
Large number of Students' Wing Volunteers led by Laxman Moirangthem clashed with police at Moji leirak Thangmeiband where the State Legislative Assembly gate is just 200 meter away.
The Students' Wing Volunteers gathered at Moji Leirak Community hall this morning and started marching towards State Legislative Assembly. Strong police team present at the area tried to stop the protestors however, as the students' volunteers started confronting the police.
Later the police team fire mock bomb, tear gas shell to disperse the agitators.