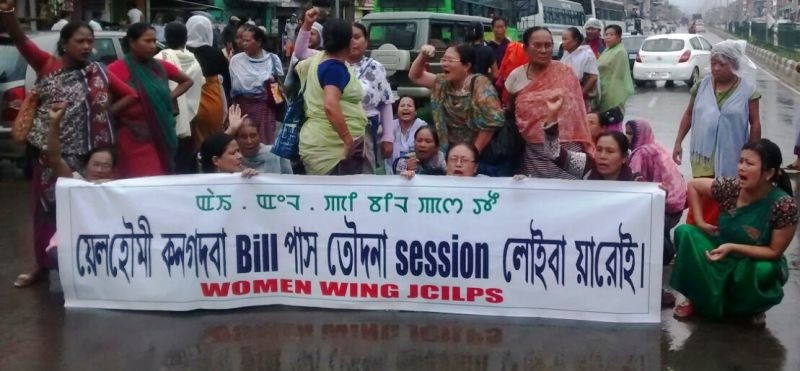 IT News
While expressing the government strong stand and commitment to the introduction of a new legislation to protect the indigenous people of the state Chief Minister Okram Ibobi Singh today clarified that it was the time constraint in framing a legislation which will be accepted by all the communities of the state that make the government helpless in producing such a bill.
Before justifying the government stand, Chief Minister Okram Ibobi Singh who is also the leader of the house, soon after question hour, in today's Assembly session said that if the government have to table a bill then such bill should be accepted by all the people of the state.
"Manipur is similar to mini India with multi ethnic people residing at various part of the state and a bill if introduce should not have any differences among the people of the state", Okram Ibobi Singh said.
Recalling on how the last bill passed by the house has been withhold by the President of India, Ibobi said this time government is committed toward preparing a bill which the president will give assent.
On the other hand the Chief minister also stated the present situation of Churachandpur district  at which a JAC formed against the passing of the 3 ILPS related Bill has been continuing till today. 9 people were killed during an uprising by the JAC in reaction to the passing of the 3 bill last year and the dead body has not been accepted till today.
"Even after knowing that the President of India has withhold the The protection of Manipur Peoples' Bill 2015, the JAC still is not retreating their agitation", Ibobi said.
In such a situation it is needed that the bill which is prepared by the government need to be placed before the public domain so that people can give suggestions, he added.
"We give August 24 as the dead line for giving suggestion to the draft bill after publishing it to all the news papers and other media and as according to it we received 91 comments and suggestion from the people including MLA Ibomcha", Ibobi said.
Further, the JCILPS which is spearheading an agitation had submitted a draft proposal for introducing it in the house only on August 29. Chief Minister Okram Ibobi while welcoming the JCILPS proposal however said that even the draft bill need to be placed in public domain and the government need to consult constitutional experts to discuss all the 91 comments and suggestion besides the JCILPS submitted proposal.
"After completion of another draft bill, the content of the bill will be again put to public domain for feedback and so that no community opposed it", Ibobi said.
While asserting that his government will surely table a new bill in the coming session, Ibobi said that there is no change in government commitment for introduction of a new ILPS bill.