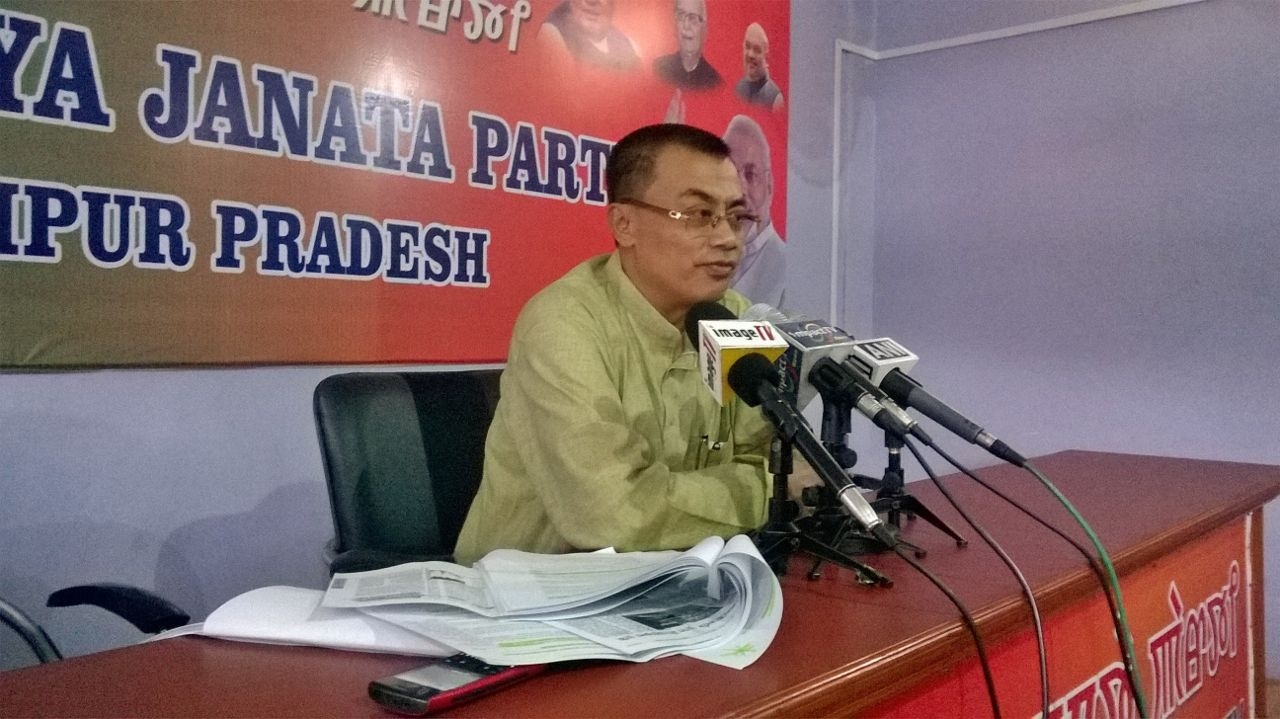 Imphal, July 11: The Bharatiya Janata Party (BJP), Manipur Pradesh on Monday alleged that JN Institute of Medical Sciences (JNIMS), Porompat is a cottage industry for Chief Minister and Commissioner, Health and Family Welfare.
Addressing a group of media persons here today at BJP, Manipur Pradesh head office, Vice President Moirangthem Asnikumar Singh said that the public institute is filled with corrupt activities. Director (i/c) of the government-run institute and Commissioner of Health and Family Welfare, corrupt activities are carried out in broad day light with the full backing of Chief Minister, who is also the president of JNIMS Society. Corruption, nepotism and favoritism in appointment and promotion of staffs became a hallmark of JNIMS.
Referring to media reports, the Vice-President of BJP, Manipur Pradesh alleged that the JNIMS Director in-charge collected a huge amount of money for regularization of 48 Staff nurses and 2 computer operators under the advice of Chief Minister, Okram Ibobi Singh. 'It is clear that the Chief Minister himself is patronizing irregularities and corrupt practices in JNIMS', Asnikumar said.
This is just a tip of an iceberg; many skeletons will tumble out. If JNIMS happens to be de-recognised by Medical Council of India (MCI), career of medical student would be affected due to irregularities of the Director while dancing to the favourite tune of Chief Minister.
While demanding a white paper on appointment, tender and promotion in JNIMS from its inception to the present from the president of JNIMS Society within a week's time, the Vice-president of BJP warned that the party wouldn't remain a mute spectator, and will submit a detailed report to Ministry of Health & Family Welfare and MCI.
DEMORALIZATION OF COMPETENT SENIOR FACULTIES
"Promotion of Dr N Jitendra Singh as Professor Unit III on 06/08/2015 and Dr Ng Javan, promoted as Associate Professor on 06/08/2015 after the cut-off date without any publications is against Regulations. Dr ST Singh, Associate Professor has been promoted after cut-off date without 2 (two) research publications; Dr Keisham Upendra Singh promoted in October 2015 after cut-off date without giving author names in the publications quoted; promotion of Dr Ibemhal Heisnam to Associate Professor without any publications and no authors names given; hence cannot be considered," are the deficiencies pointed out by MCI in its assessment minutes of JNIMS, Asnikumar said.
Such irregularities and nepotism in promotion of junior and inexperienced persons to higher responsibility led to demoralization of competent senior faculty members, he pointed out.
LOKTAK SCAM
Replying to queries posed by reporters, the VP of BJP stated that the party is serious about rooting out corruption in the state. The BJP exposed the infamous multi-billion Loktak scam involving high level government officials, and following the discussion on the issue in the parliament, the central government has sent instituted enquiry committee to probe the embezzlement of the present Congress government.
ADDITIONAL EXECUTIVE MEMBERS
He also informed that the Pradesh BJP will announce additional list of state executive members and the name of the new party spokesperson likely this week.
In this regard, a meeting has been convened today morning at the party head office and finalized the names to be nominated to the State Executive Committee.