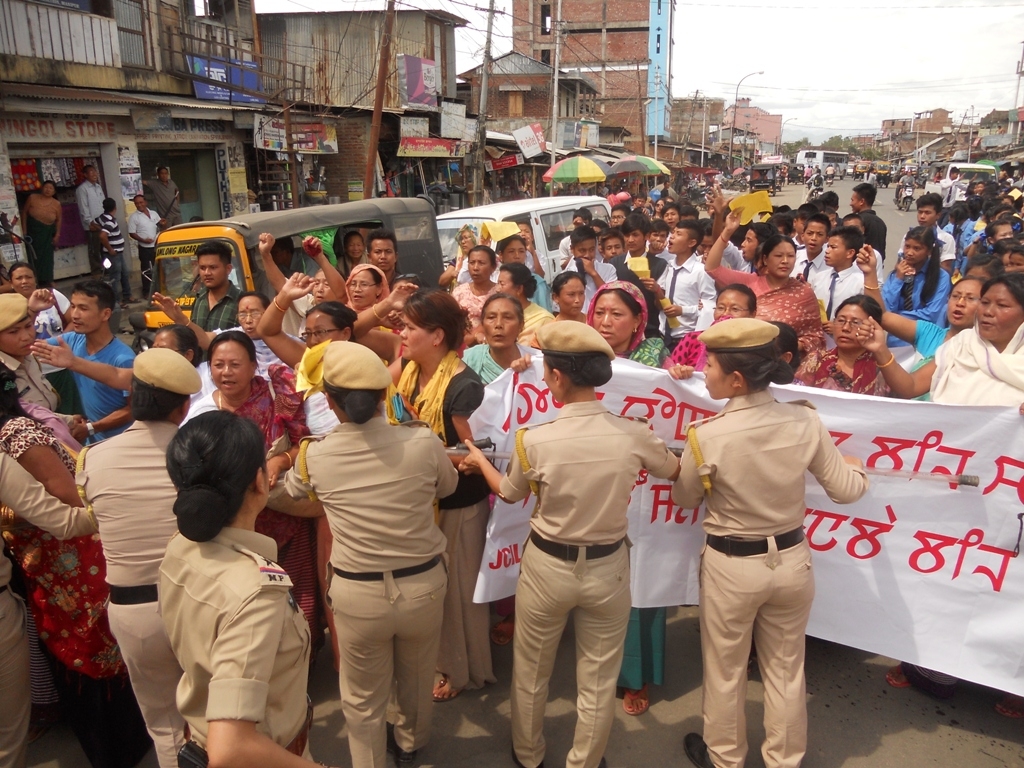 Volunteers of Joint Committee on Inner Line Permit System (JCILPS) today staged protest at Khurai Lamlong Bazar in Imphal East blocking all sorts of traffic at the area.
The volunteers later marched towards Manipur State Legislative Assembly at around 1.30 pm today however a police team stopped them at Lamlong keithel.
The JCILPS has been demanding withdrawal of the MRVTMW Bill which was passed on last season of Assembly Session alleging that the content of the bill has no provision to safeguard the indigenous people of the state. The committee further said that the bill was prepared against the wishes of the people.
Around 250  women and student from Leisamba Maheikol of Chingarel, Kangla Higher secondary school of Kangla and Lamlong Higher secondary school Lamlong  took part in the protest. After staging a protest demonstration in front of Popular High school of Khurai, they proceeded towards Manipur Legislative Assembly Secretariat. Police faced hard time in trying to control the agitators.
The protester shouted  slogans  like "introduce new indigenous friendly bill of Inner Line Permit Bill" "implement inner line permit system in Manipur", "Protect indigenous people" etc. Later, after the police prevented them from marching toward the state Assembly a public meeting was held Khurai Leikhulembi Sanglen.
Convener in-charge of JACILPS Thoudam Ratan, while speaking on the occasion demanded resignation of the MLAs if an indigenous people friendly bill is not passed by withdrawing the MRVTMW Bill in the ongoing 11th session.