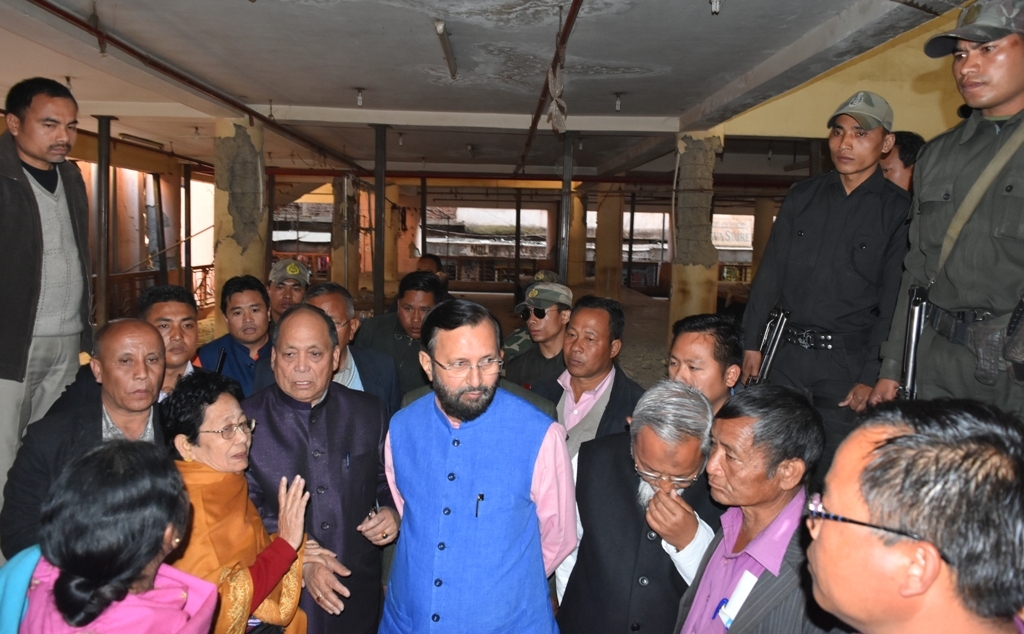 Union Minister of State, in charge Forest and Climate Change, Prakash Javadekar today expressed surprised seeing the damage cause at Khwairamband Keithel Ima Market which is hardly 5 years old when those building which are over 60 years old remained intact during the recent 6.8 magnitude earthquake of January 4.
Speaking to the media persons at Khwairamband Keithel, Prakash Javadekar said that the main reason for his visit was to inspect the 2 Khwairamband  Ima Market buildings which had been affected during the recent tremor. After assessing the damage portion, a report will be made to the concern ministry in the center and will even appeal to the Prime Minister to look into the matter of the Ima Market, Prakash Javadekar asserted.
On the other hand, women vendors of the Khwairamband Ima market has urged the Minister to construct a new building instead of repairing the present building which has been severely damage during the recent tremor. 
Meanwhile, Th Chaoba appealed the women vendors of the 2 damage Ima market to submit their memorandum at the office of the BJP Pradesh Manipur, today.