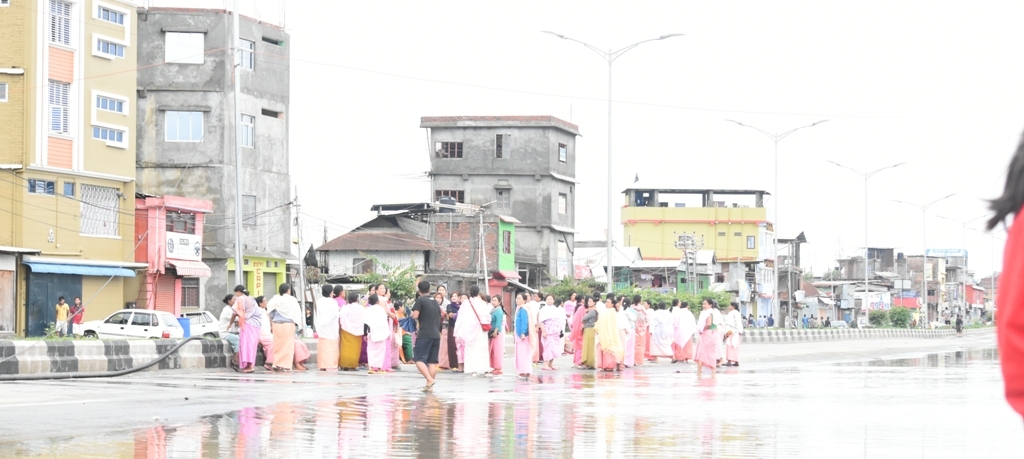 Imphal, May 18: On the last day of the ongoing serial protest demanding implementation of Inner Line Permit System in Manipur, locals of Keishampat to Malom area have staged various forms of protest demonstration along the Tiddim road stretch today.
Spearheaded by Women's Wing of Joint Action Committee on ILPS a large number of womenfolk have staged sit-in-protest and blocked the road starting from Keishampat traffic point to Malom.
Protestors have blocked the Tiddim road at Keishampat junction, Thiyam Leikai, Keishampat Moirang Ningthou Leirak, Top Leirak, Takhel Leikai and Kwakeithel bazaar, Sangaiporou, Ghari Awang, Ghari Makha leikai and Malom Tulihal, Tuliyaima, Tuliton and Mekola junction areas.
Organised by locals clubs, locals have staged sit-in-protest at Ghari Makha and Awang Leikai since today morning till 1PM. After which they have blocked the Tiddim road at Ghari area and also formed human chain along the stretch.
Locals Meira Paibi and protestors have blocked the stretch by planking tree branches on the road.
The protestors at Keishampat and Takhel Leikai areas have also formed human chains and raised various slogans.
Owing to the protest demonstration, some schools and other educational institutions situated around Kwakeithel, Ghari, Malom and Changangei have closed and witnessed thin vehicular movement along the road today.
State security personnel were deployed at Ghari, Kwakeithel and Keishampat area to ensure safety of vehicular movements during the purview of the protest demonstration; and no incident of violent reported at the time of filing this story.