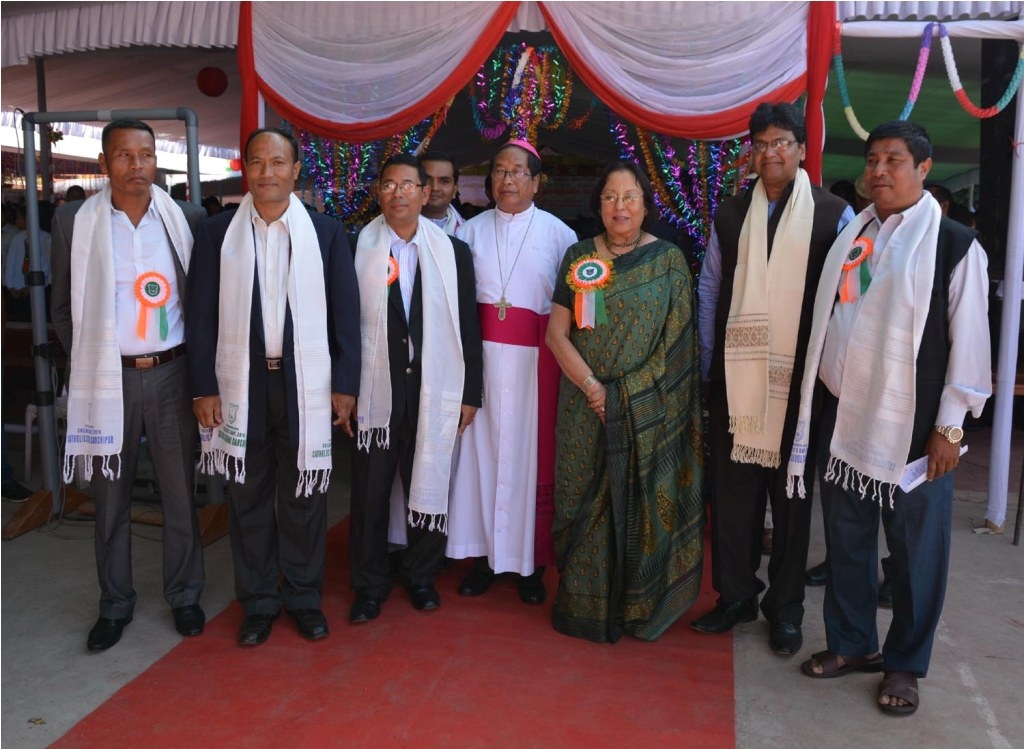 DIPR Imphal, November, 14: Governor of Manipur Dr. Najma Heptulla today graced Children's Day Celebration at Catholic School, Canchipur as Chief Guest. On the occasion, Governor said "she was always happy in the company of young students and it is a most pleasant opportunity for her to celebrate Children's Day with the children".
Children's Day is celebrated on different dates in many countries to signify different historical events relatable to children. In India, it is celebrated on the 14th of November every year to commemorate the birth day of Pandit Jawaharlal Nehru who was a freedom fighter and the first Prime Minister of free India and considered the architect of modern India. 1st of June is celebrated as the International Children's Day whereas 20th of November as Universal Children's Day in many parts of the world. Pandit Jawaharlal Nehru was a true friend of the children. He loved to talk to the children and play with them. He was the Prime Minister of India but he brooked no barrier towards the children. He was a very warm hearted person and always inspired and motivated the children to be patriotic and good citizens of the country.
Celebrating children's day reminds us about the importance of children in the making of the future of the country. It is a call to every Indian citizen to protect their little ones from all harms by providing better childhood. Nowadays, it is really a matter of great concern that children are made victims of many social evils like drugh, child abuse, alcohol, hard labour, violence, etc. They are forced to child labour, to earn little money for hard work at a tender age. They remain away from the healthy life, parents' love, education and other childhood happiness. Children's day celebration helps us to ponder over these social ailments in the country. Children are the valuable assets as well as future of the nation and also hope of tomorrow, so they should get proper care and love.
The Governor further said that she is happy that the Catholic schools in Manipur have been centres of exellence in the field of education, producing quality students. The people of the state repose great faith in the Catholic Schools and there is high demand for admission in these institutions. The contributions of the Catholic schools in the sate are unique and unparalleled and they are marching forward with a grand vision of the future. It is indeed laudable that the Archbishop of Imphal is heading a number of prominent educational institutions such as three Colleges, nine Higher Secondary Schools, forty-one High Schools and fourteen Junior Schools in the State. There is an impressive number of sixty-four thousand four hundred forty-eight students studying in Catholic Schools in Manipur.
As part of the celebration, prizes were distributed to students who had excel in different field and also students show cast a varieties of programme. The celebration was attended by Most Rev Dominic Lumon DD, Archbishop of Imphal as President and National Co-ordinator, Indian Catholic Youth Movement Shri Raymond D'Souza as Guest of Honour respectively.