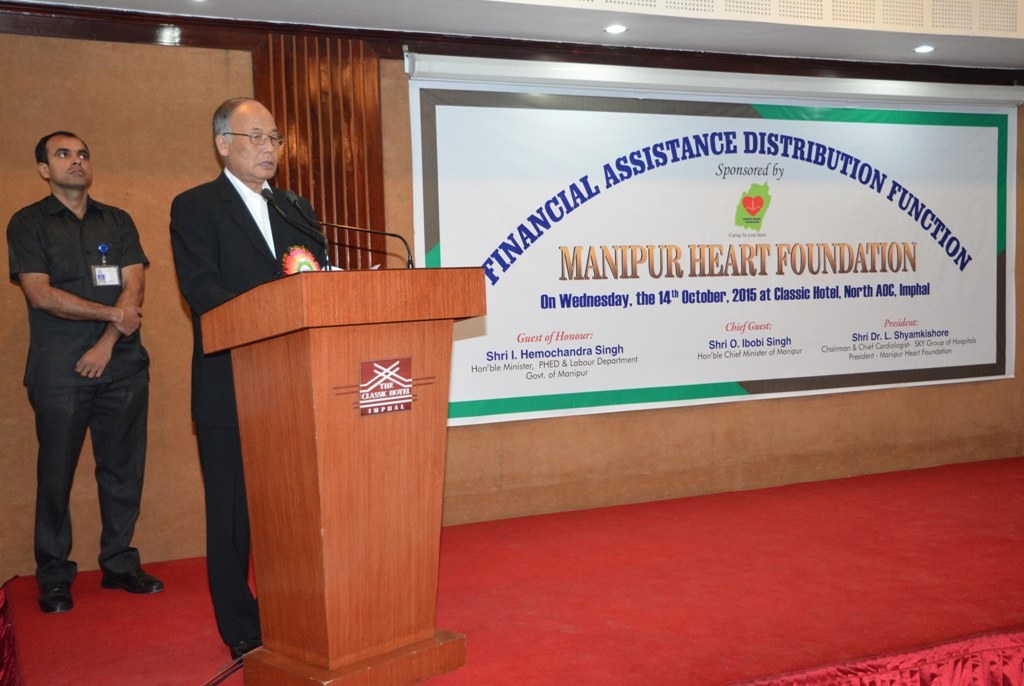 DIPR
Imphal, Oct. 15: The Government alone cannot face the problems in health sector in the society. Facing such problems by the government alone is next to impossible. This was stated by the  Chief Minister of Manipur O. Ibobi Singh while addressing the  Financial Assistance Distribution Function sponsored by Manipur Heart Foundation in Collaboration with Sky Hospital at Classic Hotel, North AOC, Imphal.
The Chief Minister further said that the Government including those of private sectors together have to face the problems of Health and Education just like a war. We human beings faced enormous problems such as joy or sorrow which are inevitable part of our lives. By facing all these problems only then we can feel the real taste of life. Whether one lives in any secure place, definitely one day either he or she will die bidding adieu to his near and dear ones when his time comes. Even the cleverest of the clever could not be left out from death.
Appreciating the contribution of Dr. L. Shyamkishore who left London and started working here in Manipur for the noble cause of humanity, the Chief Minister said, one may adopt the profession of doctor, engineer or social worker but, at least what one can do by his profession be contributed in order to bring a good and an advanced society. We have to appreciate not only Dr. Shyamkishore's contribution but those philanthropists who are also rendering their services by helping in the form of financially, physically or otherwise for the needy and BPL families who couldn't afford to go for treatment outside Manipur, he added.
While distributing financial assistance of Rs. 25,000/- each to 9 heart patients belonging to different BPL families from all the district of the state for treatment, the Chief Minister hoped that people with generosity will contribute for this noble cause of humanity and also donated Rs. 1 lakh to Manipur Heart Foundation from his discretionary fund.
The function was attended by President, Manipur Heart Foundation and Chairman and Chief Cardiologist, Sky group of hospitals Dr. L. Shyamkishore and Minister PHED, Labour and Employment Shri I. Hemochandra Singh as President and Guest of Honour respectively. The function was also attended by Parliamentary Secretary TA & Hills and IT Shri Victor Keishing, MLA's Smt. O. Landhoni Devi and Shri St. Nunghlung Victor as Special Guests respectively.
As a part of the function, the activities and achievements of Manipur Heart Foundation since its inception i.e, 3rd March, 2013 was also highlighted through 16 minutes visual support. It may be mentioned that since the establishment of MHF, during a short span of 2 years it could organised/conducted different seminars on heart related patients at different districts of the state, established Full fledged Heart Hospital, rendered financial assistance to patients belonging to the needy and BPL families covering the entire state of Manipur for treatment, besides conducting free heart camps at district level for children under the age group of 13 years at various places of the state.