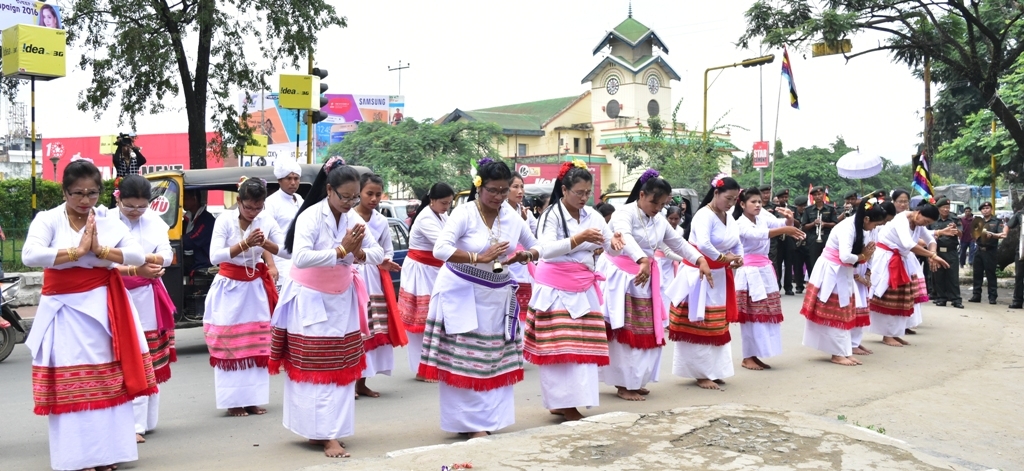 IT News
Imphal, Oct 14: Mera Chaorel Houba, the festival for preserving and promoting unity and integrity amongst all the communities living in Manipur has begun at Uttra Shanglen, Sana Konung (Palace Compound) today.
Mera Chaoren Houba, an auspicious day observed by various Maibas and Maibis and common people offering tribute to the indigenous diety at Kangla,
 It is celebrated on the first day of the month of Mera in Meitei calendar since time immemorial.
It symbolizes refreshing of the age-old bonding between the people in the hills and valley of Manipur.
Gracing the occasion at Sana Konung, Leishemba Sanajaoba, titular King of Manipur said the festival is celebrated to seek blessings of the Almighty for peace and bountiful food grains.
The importance of the festival is to promote and sustain the age-old relationship between the hills and valley.
Starting from today, other festivals related to Mera Chaorel Houba, Sana Konung will also organize other festivals. One of the most important is the "Mera Mei Eratpa" (Burning of fire). The reason for burning the fire is to seek blessings from the Almighty, to prevent the bad things face and which will be face by our society in the future. The fire will keep burning for seven days continuously nonstop, he added.
This festival will be celebrated for over a period of 15 days from the first day of Mera month till the first full moon day of Mera.
During these 15 days of celebration, exchange of gifts and sharing of feast between the hills and valley people will be highlight, he added.
Leishemba Sanajaoba, Titular King of Manipur also conveyed that from this festival, all the people of Manipur, people following different religions and the related groups and society to seek blessing to the Almighty according to their believe, for our society to bring peace and harmony among us, to guide us, protect us and to have the strength to face the challenges together which lies ahead.
The celebration was held under the aegis of Lainingthou Sanamahi Temple Board at 1st MR complex.
A mass procession, attended by people belonging to different communities in their traditional attires including priests and priestesses performed rites amid rendition of the traditional Pena, a musical instrument associated with religious practices of the Meitei community was taken out from the complex of Lainingthou Sanamahi Temple to Kangla, from where the sacred water was collected from Nungjreng Pukhri.