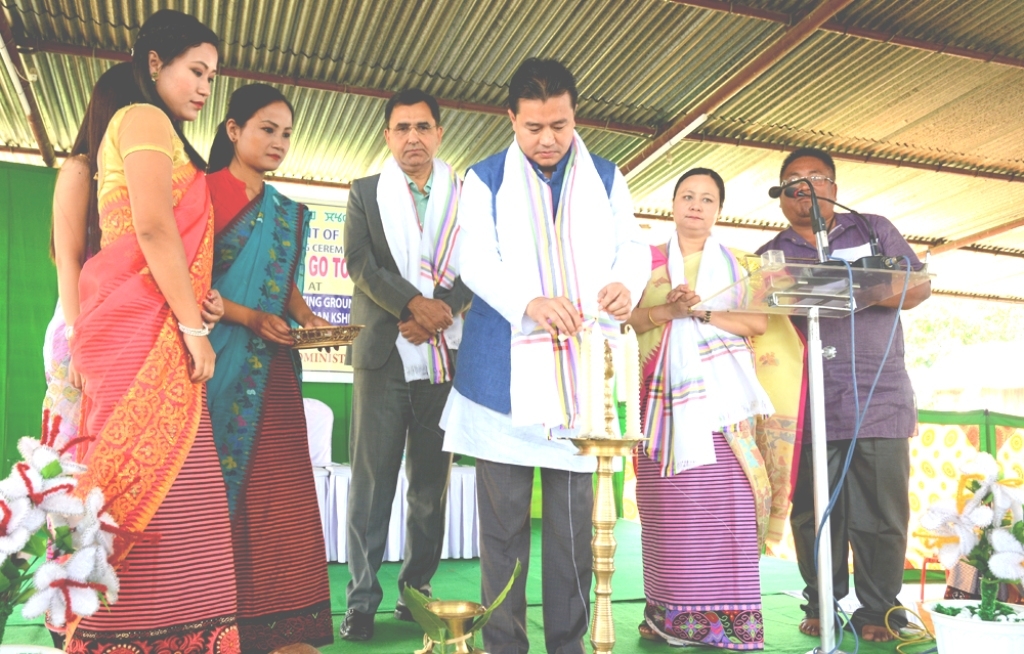 IT News
Imphal, May 2,
 Rural Development and Panchayati Raj Minister Thongam Biswajit Singh launched 'Khungang Chatse – Go to Village' mission at Eleven Star Sporting Ground, Akampat ,Torban Kshetri Leikei village, Torban Kshetri Leikai GP OF 5-Thongju AC in Imphal East with a tree plantation programme on May 1.   The sole objective of the mission is to help and uplift the needy and poor people and to bring some positive changes in the State.
Addressing the gathering Minister Biswajit stated that the mission is being launched to improve the livelihood of the villagers and at the same time to provide all the benefits of flagship programme and state's scheme at the doorstep of the villagers.
Stating that Aadhaar is an important document and it is needed for registration in every schemes, he urged all to get enroll for Aadhaar to get benefits of all schemes. Minister also announced to arrange Aadhaar seeding at free of cost for those left out in Thongju A/C.
He elaborately explained regarding the flagship programme of the Central Government namely Ujala, Ujwalla, Beti Padao Beti Bajao, PMAY (G), Saubhagya Scheme, Pradhan Mandtri Jan Dhan Joyana, Mission Indradhanus, etc.
He further explained about the state schemes CMST, CMHT, etc. and advised the people to take benefits from the stall of various departments and to know the welfare schemes that are being taken up by the Government.
He also appealed the people to cooperate with the zilla parishad pradhans and members in implementing the mission a success.
Deputy Commissioner Imphal East Smt. Th Chitra Devi, IAS said that the mission to check whether the right beneficiaries are getting the benefits of the various welfare schemes and programmes implemented by the State and the Central Government.
MH Khan, IAS, Addl. Chief Secretary (Works/RD&PR) said that the mission is a very important one to bring development in the rural areas.
Various departments including RD&PR, Social Welfare, Health Directorate provided on the spot solutions to the queries of the people. MSPDCL also provided LeD bulbs and Tubelights at subsidised rates.
The launching programme was attended by members, Pradhan , Zila Parishad and locals  of Torban Kshetri Leikai GP.