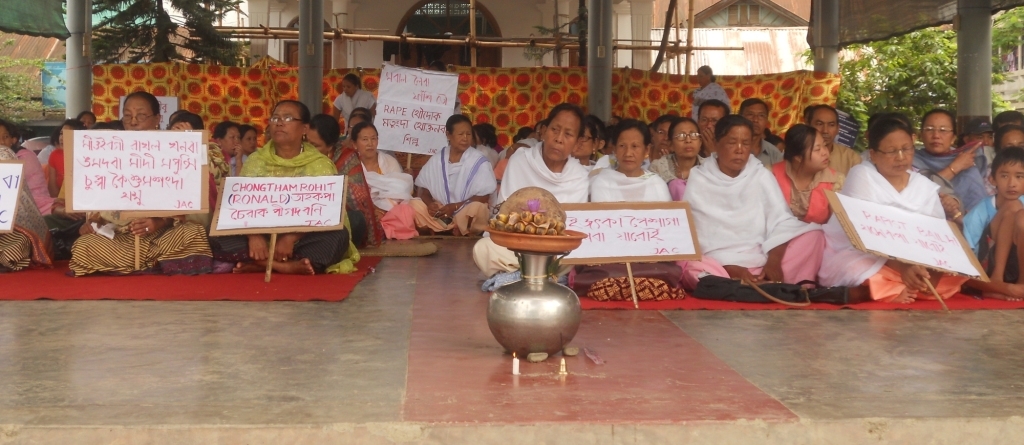 JAC formed against the rape of a disabled minor girl, Parents' Association for Disabled Persons, Manipur and State Platform of disabled People Organisation Manipur, a conglomerate of disabled bodies of the state today staged a sit-in-protest at Keishampat Community Hall demanding appropriate punishment to rapist Chongtham Ronald @ Rohit (24) S/o Ch. Radhakanta of Keishampat Mutum Leirak who is presently detained at Sajiwa jail. The accused allegedly rape a minor disabled girl who is deaf and mute on July 1 in broad daylight at her own house when her parents were out. He was arrested by a team of Imphal West Police on July 4 following a complaint lodged by the family of the victim minor girl. According to source the rapist is likely to be produced at the CJM Imphal West.
Spokesperson of the State Platform of disabled People Organisation, Manipur, Yunus Khan while speaking to media persons said that the state police should not take time to framing charge sheets against the accused. He appealed the Home Minister to take the matter seriously and demanded speedy justice to the disabled girl. Yunus further added that they appreciated the Home Minister's initiatives to the dealing of the U-Morok rape case and expressed hopes that the Home minister will treat the case of the disabled girl with equal sentiments.
Publicity Secretary of the Parents Association for Disabled person, Sanasam Ongbi Lembi said that disabled parents were often blamed for what has been happened to their wards. But in reality parents were most of the times left with no choice but to face hard time earning day today needs to support their disabled children as government had not extended any support to them. She said that disabled were often falls as prey to the aggressive barbarians and government should not let those persons who had committed crimes against the disabled people.