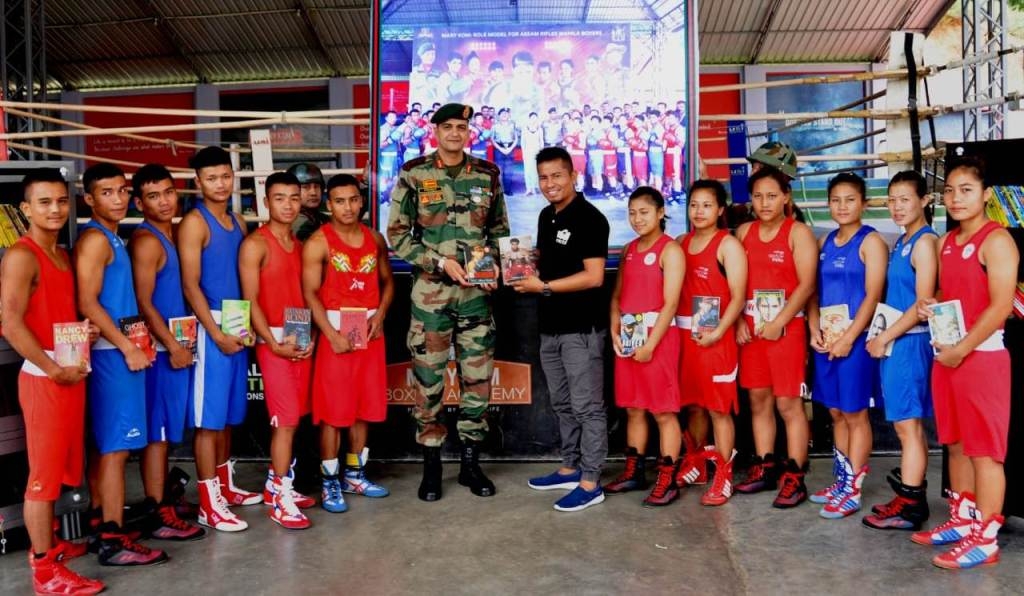 IGAR (South)
Imphal Aug 18,
In continuance with civic action initiatives, Mantripukhri Battalion of 9 Sector Assam Rifles under the aegis of HQ IGAR (South) distributed a large number of books along with book shelves to the sportspersons of Mary Kom Boxing Academy at Imphal.      
Mary Kom Boxing Academy located at Games village, Lamphelpat in Imphal, is one of the premier academies of boxing in India and provides world class facilities for training of boxers. During the visit of DG Assam Rifles to the Boxing Academy in June this year and interaction with Mrs Mary Kom, MP Rajya Sabha, it was learnt that the boxers required some books for their intellectual and recreational needs. Realising the necessity and to achieve meaningful socio-economic development in the State, the Battalion on behalf of the DG Assam Rifles conceived and undertook the project for provision of books and bookshelves to the sportspersons of the Academy.     
The distribution of books and the bookshelves was carried out during a function organised at the Boxing Academy and was presided over by the Commandant, Mantripukhri Battalion. The grand event also witnessed attendance by the Warden, Assistant Manager, the Management Staff as well as locals from the neighbouring villages. During the distribution ceremony, over 165 books of various genres alongwith the bookshelves were formally handed over to the Warden and Assistant Manager of the Academy.
The Assistant Manager of the Mary Kom Boxing Academy, speaking on the occasion praised the thoughtful initiative of the Assam Rifles and conveyed his profound gratitude to the Battalion. Contribution by Assam Rifles was profoundly appreciated by the boxers, entire Staff and Management team of the Mary Kom Boxing Academy.  
The books will certainly assist in transforming lives every year while creating a cumulative effect and meaningful welfare aimed at overall personality development of the bright minds of the State.