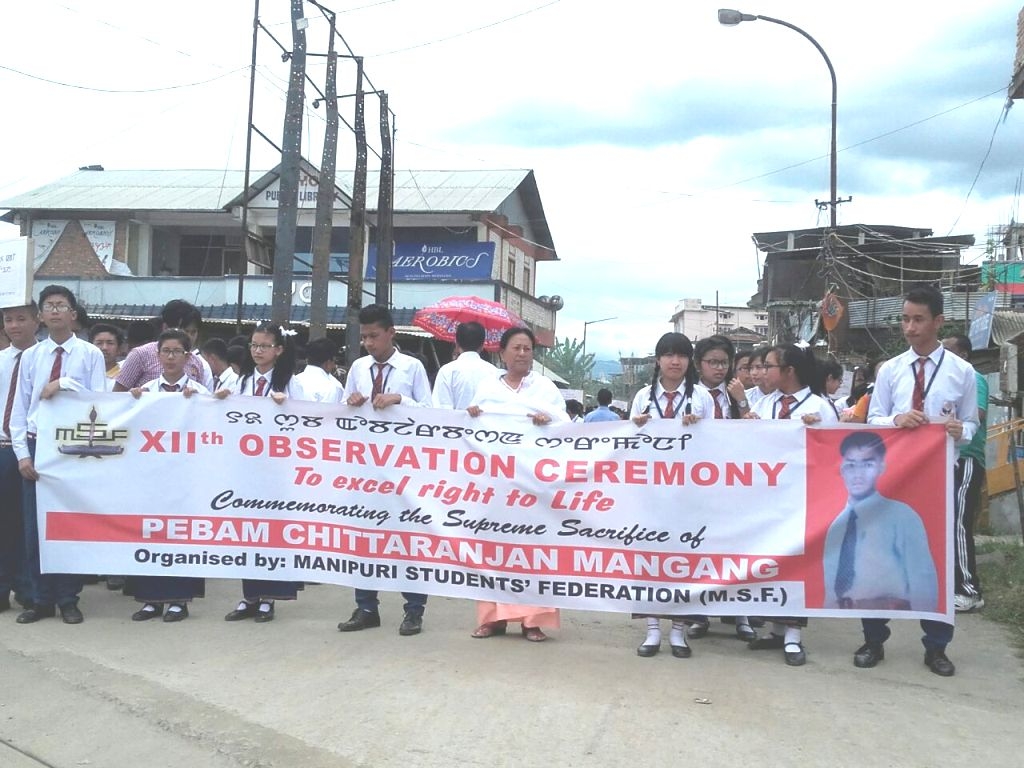 Imphal, Aug 16: Anti -AFSPA crusader Pebam Chittaranjan, the student leader who self immolated in protest against the draconian act Armed Forces Special Powers Act (AFSPA) was remembered today by paying fitting tribute at his memorial site.
Commemorating the supreme sacrifices of this student leader, Manipuri Students' Federation (MSF) observed the day under the theme – " To Excel Right to Life  at THAU ground Thangmeiband in Imphal West.
Pebam Chittaranjan set himself on fire on August 15 , 2004 at Bishnupur keithel when the nation was celebrating the Independence Day demanding repeal of AFSPA. He succumbed to his injury on August 16 at RIMS.
As a mark of respect to the supreme sacrifice, a statue of Pebam Chittraranjan ws today unveiled at Bishnupur keithel.
Over 500 people including students, civil society representatives attended the statue unveiled ceremony. Rich floral tribute were also paid to the statue of the student martyr.
At the memorial function held at THAU ground under the theme "To Excel Right to Life", Senior Advocate Khaidem Mani, Human Rights Defender Phulindro Konsam, Senior Citizen L. Sadananda and President of MSF Oinam Nandababu attended as dignitaries on the dais. 
Chittaranjan was just 28 years old when made the supreme sacrifice demanding repeal of AFSPA.
The sacrifice of the student leader make no impact as AFSPA still continue in the state.
Another anti-AFSPA crusader Irom Sharmila who had been on fast for 16 years ended her fast after she thought that her protest fails to get intention of the world largest democracy.
Speakers in today's memorial function lauded the courage of Pebam Chittaranjan Mangang.