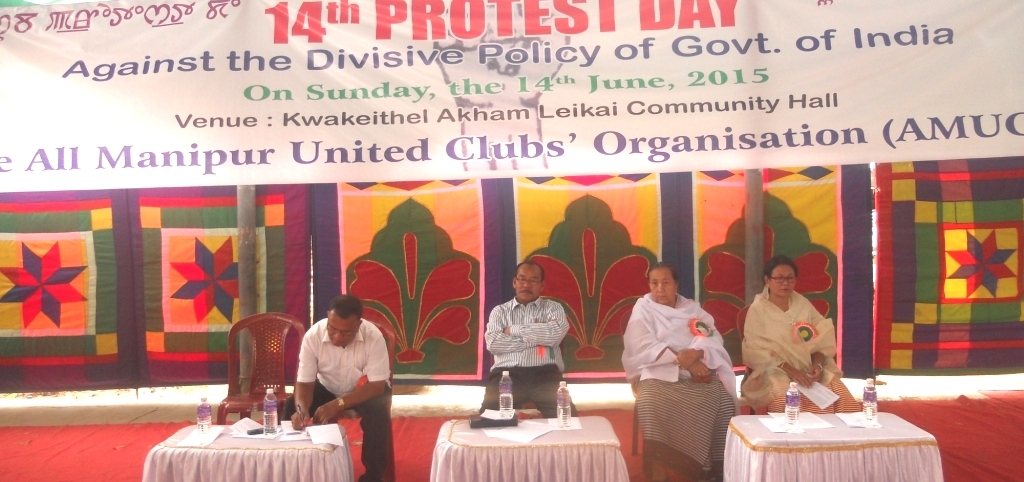 The All Manipur United Clubs Organisation, (AMUCO) today observed 14th Protest Day at Kwakeithel Community Hall denouncing the signing of the Cease Fire agreement between the Govt. of India and NSCN-IM with the words "without territorial limit" on this day of 2001 at Bangkok. Speaking on the occasion,  K.T. Rahaman, President of AMUCO appealed the United Naga Council (UNC) to call off its proposed 48 hours bandh along National Highways starting from June 16 midnight in connection with the demand for alternative arrangement of Naga inhabited areas of Manipur.  He said the proposed 48 hour bandh will disturb peace and harmony among various ethnic communities of the state.
The agreement signed at Bangkok on June 14, 2001 had sparked a massive public protest against extension of the ceasefire agreement to Manipur's territory
K.T. Rahaman further said that the ongoing tripartite talk between the UNC, Govt. of India and Govt. of Manipur should be made public in order to avoid any unwanted consequences.
Slamming the present state government which had promised to protect every inch of the state territorial boundary, KT Rahman said that the state territory has been encroached by neighbouring Nagaland in Kilometers and not in inch.
He further said that State government should deploy State forces to the border of Manipur to protect the territorial integrity besides central force.
President of AMUCO Y.Mani Khuman, President of Irabot Foundation Manipur Th. Iboyaima, President of Poirei Leimarol Meira Paibi Apunba Manipur, L. Memchoubi and president of AMAWOVA grace the function as presidium members.