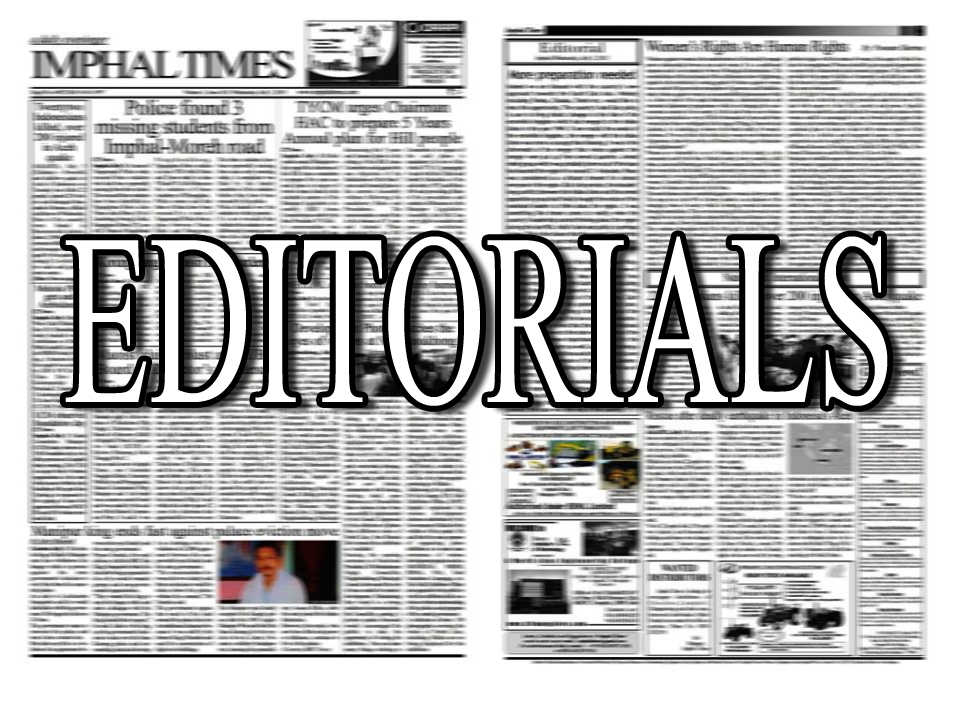 The prolonged social tensions and manifestations of discontents being underway at Churachandpur and the simultaneous demand to curb out portion of the state territory to form Nagalim have taken various shades and hues with the course of time. What is becoming more apparent with each passing day is not the clarity for the expressed demands, but for the implications of such agitations.
The increasing rigidity of the stances of the opposing parties has increased the necessity for an effective and speedy intervention. The state government however, having found itself caught in the middle as
always, has started the process of implementing its tried and tested formula of dumping the whole issue with the centre, or at least making it seem like so. Meanwhile, the adamancy of the extremists in sticking to their ends of the issue has elevated the present imbroglio up another notch in complexity.  But for all the wise talks and fervent campaigns, the very fact remains that political boundaries and areas are never constant, and can be changed. Separation of East Timor from Indonesian occupation and, closer home, formation of Telangana state from Andhra Pradesh drives home the point. What is also an undeniable fact is that these separations have been at huge costs to lives and properties. Choosing to ignore the fact would be living in self denial and will eventually cost us more than we can afford to lose. There still is, however, a faint ray of hope for the beleaguered people of the state. History bears witness to the fact that the people of the state have endured unimaginable sufferings and extreme torments in the hands of the neighbouring Burmese invaders. That the very reason for the survival and continued existence of the people of the state irrespective of their community, customs, language or beliefs was the cooperation, support and solace extended and exchanged during the
darkest days without the consideration for caste or creed. Are we ready to discard the very attribute which ensured the collective survival of our varied communities and cultures in the most trying of
times? The history of Manipur is one which is made up of the myriad cultures and customs being practiced in various forms and regions. It would indeed be a great insult to our forefathers in whose name we are preparing to take up the cudgel, if we are to part ways for the sake of our different cultures and customs. But if ever things have to come to such a pass, the prospect of bidding loving farewell is a distant dream. For those who are hatching the plots, there is more to life than a few acres of land or a few thousands worth of freebies. Who knows, the rest of the world might even leave their countries with us for more prospective planets while we are still drawing and redrawing our claims.