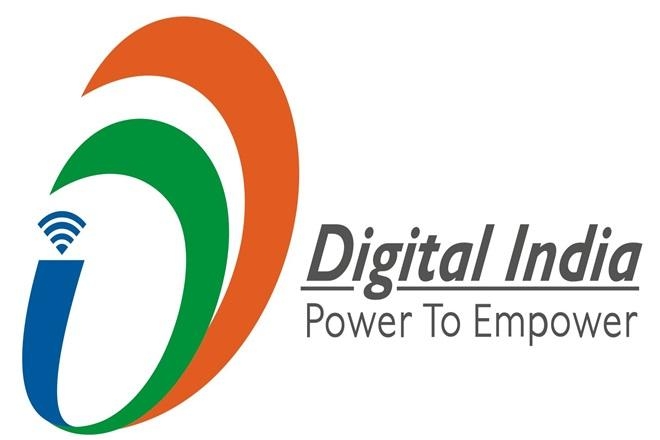 By: Sanjenbam Jugeshwor Singh
Faculty , NIELIT Imphal.
    Digital India with "POWER TO EMPOWER"motto was launched by PM Narendra Modi on 1st July 2015, which is a campaign launched by the Government of India in order to ensure the Government's services are made available to citizens electronically by improved online infrastructure and by increasing Internet connectivity or by making the country digitally empowered in the field of technology. The initiative includes plans to connect rural areas with high-speed internet networks. Digital India consist of three core components: the development of secure and stable digital infrastructure; delivering Government services digitally and universal digital literacy.
       Launched on 1st July 2015 by Indian Prime Minister Narendra Modi, it is both enabler and beneficiary of other key Government of India scheme such as BharatNet, Make in India, Startup India and Stand up India, Industrial Corridors, Bharatmala , Sagarmala, dedicated to freight Corridors, UDAN-RCS and E-Kranti. As of 31st December 2018, India had a population of 130 crore people (1.3 billion), 123 crore (1.23 billion) Aadhaar digital biometric Identity cards, 121 crore (560 million) internet users up from 481 million people (35% of country's total population) in December 2017 and 51% growth in e-commerce. The vision of Digital India programme is inclusive growth in areas of electronic services, products, manufacturing and job opportunities. It is centered on three key areas- digital infrastructure as a utility to every citizen, governance and services on demand and digital empowerment of citizens. Some of the facilities which will be provided through this initiative are BharatNET, digital Locker, e-education, e-health, e-sign, e-shopping and national scholarship portal. As a part of Digital India, India Government planned to launch Botnet cleaning centers. National e-Governance plan aimed at bringing all the front-end government services online. MyGov.in is a platform to share inputs and ideas on matters of policy and governance. It is a platform for citizen engagement in governance through "Discussion", "Do" and Dissemination approach. UMANG (Unified Mobile Application for New-Age Governance) is a Government of India all-in-one single unified secure multi-channel, multi-platform, multi-lingual, multi-service freeware mobile app for accessing over 1,200 central and state government services in multiple Indian languages over Android, ioS, windows and USSD( feature phones) devices, including services such as Aadhaar, Digital Locker, Bharat Bill payment system, PAN,EPFO  service, PMKVY services AICTE, CBSE, tax and fee or utilities bills payment, education, job search, tax, business, health, agriculture, travel, Indian railway ticket booking, birth certificate, e-District, e-panchayat, police clearance, passport, other utility services from private companies and much more. E-sign framework allows citizens to digitally sign a document online using Aadhaar authentication. Swachh Bharat Mission (SBM) Mobile app is being used by people and government organizations for achieving the goals of Swachh Bharat Mission. E-Hospital application provides important services such as online registration, payment of fees and appointment, online diagnostic reports, enquiring availability of blood online etc. Digital attendance gov.in was launched by PM Narendra Modi on 1st July 2015 to keep a record of the attendance of government employee on a real time basis. This initiative started with installation of a common Biometric Attendance System (BAS) in the central government offices located in Delhi.
       The 2016 Union budget of India announces 11 technology initiatives including the use of data analytic to nab tax evaders, creating substantial opportunity for IT companies to build out the system that will be required. This is a means to eradicate Black Money rackets. Digital literacy mission will cover six crore rural households. It is planned to connect 550 farmer markets in the country through the use of technology. Digital Locker facility store their important documents like PAN card, passport, mark sheets and degree certificates. Digital Locker will provide secure access to Government issued documents. It was authenticity service provided by Aadhaar. It is aimed at eliminating the use of physical documents and enable the sharing of verified electronic documents across government agencies. Three key stakeholders of Digital Locker are citizen, Issuer and requester. The government is planning to create 28,000 seats of BPO in various state and set up at least one Common Service Center (CSC) in each of the gram Panchayat in the state. E-Sampark is vernacular e-mail service. Out of 10% English speaking Indians only 2% resides in rural areas. Rest everyone depends on their vernacular language for all living their lives. However as of now, e-mail addresses can only be created in the English language. To connect rural India with Digital India, the Government of India impelled e-mail service provider giants including Gmail, Office and Rediff to provide the e-mail address in regional languages. The e-mail provider companies have shown positive sign and working in the same process. An Indian based company, Data Xgen Technologies Pvt Ltd has launched world's first free linguistic e-mail address under the name DATAMAIL which allows creating e-mail ids in 8 Indian languages, English and three foreign languages –Arabic, Russian and Chinese. Over the period of time, the e-mail service in 22 languages will be offered by Data Xgen Technologies.
       Pradhan MantriGramin Digital Sakshartaabhiyan is being executed by PMGDisha with an outlay of Rs 2,351.38 crore with the objective of making 6 crore rural households digitally literate by March 2019. Pradhan MantriGramin Digital SakshartaAbhiyan is an initiative under Digital India program, approved by the Union Cabinet chaired by the PM Narendra Modi. The main objective of the Pradhan MantriGramin Digital SakshartaAbhiyan is to make 6 crore people in rural areas across India digitally literate, reaching around 40% of rural households by covering one member from every eligible household. Common Service Centers (CSC) creates a conducive environment for the private sector and NGOs to play an active role in implementation of CSC scheme, herby becoming a partner of the government in the development of rural India. The PPP model of CSC scheme envisages a 3-tier structure consisting of the CSC operator (Called Village Level Entrepreneur or VILA),the Service Center Agency (SCA) that will be responsible for a division of 500-1000 CSCs and a State Designated Agency (SDA) identified by the state government responsible for managing the implementation over the entire state.
        Manipur State IT Society (MSITS) is the designated Agency. Towards successful operations of these CSCs Government of Manipur has provided VSAT and solar Power packs to resolve the internet connectivity and power issues. As of now, 995CSCs are fully functional in Manipur. State Government had authorized and declared all CSCs to be permanent Aadhaarenrolment center. Pradhan Mantri Digital SakshartaAbhiyan is being taken up at these CSCs to provide Digital Literacy in the rural areas of the State. To provide Banking Services to the unbanked areas in Manipur, CSCs has appointed Business Correspondence under SBI, Vijaya Bank and Punjab National bank. Digital finance inclusion Awareness & Access is being carried out at these centers to promote cashless economy. The Union Ministry of Electronics and Information Technology under its Digital India program have announced "KARANG" as the first cashless Island in India on 13th January 2017. Commissioner (Finance) Government of Manipur along with Department of Information Technology has implemented Jeevan Pramaan in the state of Manipur and on boarding treasury/Sub-treasury officers to the Digital Life certificate in Jeevan Pranaam portal for the pensioners. G2C( Government to Citizen)  services available at these CSCs are-Aadhaarenrolment, updating and print, PAN Card application, Jeevan Parmaan GST fillings and registration, Legal literacy project(LLP) PMGDisha, passport application Pradhan MantriAwasYojana .Digital transaction from CSC portal are: agriculture service, e-recharge, Educational service,FSSAI, health care services, cattle & livestock Insurance and many others. In fact "Digital India "is a dream for Prime Minister Narendra Modi to transform a new Bharat in this era of globalization.
  Writer can be reached to:[email protected].