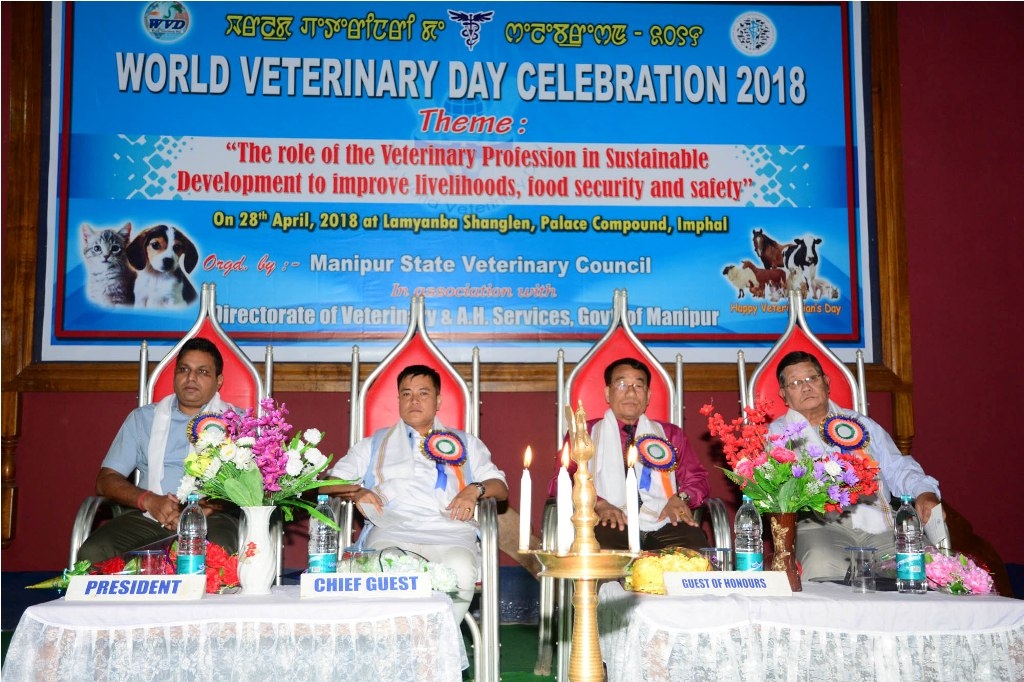 DIPR
Imphal, April 28,
World Veterinary Day 2018 was observed under the theme," The role of veterinary profession in sustainable development to improve livelihoods, food security and safety" at the Auditorium of Lamyanba Shanglen, Palace Gate, Imphal, today.
Speaking as Chief Guest at the function, H.Dingo Singh, MLA, Legislative Assembly, Manipur said that the relations between human being and animals give us huge benefits and quantity of products for the sustainable development to improve livelihood of people. He appreciated the department for their effort in taking care of animals by taking up vaccination of ailing animals and encouraging to continue preservation of livestock for better livelihood of people in future.
Veterinary Director, H.Chaoba Singh, Director (retired) S.Joy Kumar Secretary (Vety. & A.H), Sumant Singh,IAS, were also present at the function as Guests of honour and President respectively. The Observation was organised by Manipur State Veterinary Council in association with Directorate Of Veterinary & A.H Sciences, Government of Manipur. Veterinary staff from different places of the State and other dignitaries also attended the function. Awards and citation were also given to Dr.N.Muncha Devi, Vety. Officer ,Kakwa Vety. Hospital, Ch.Ajanta Devi , Vety. Field Assistant, Akampat Vety. Dispensary, N.Dias Singh ,Vety. Attendant, Kakwa Vety.Hospital for their contribution and dedication to the development of the Department.