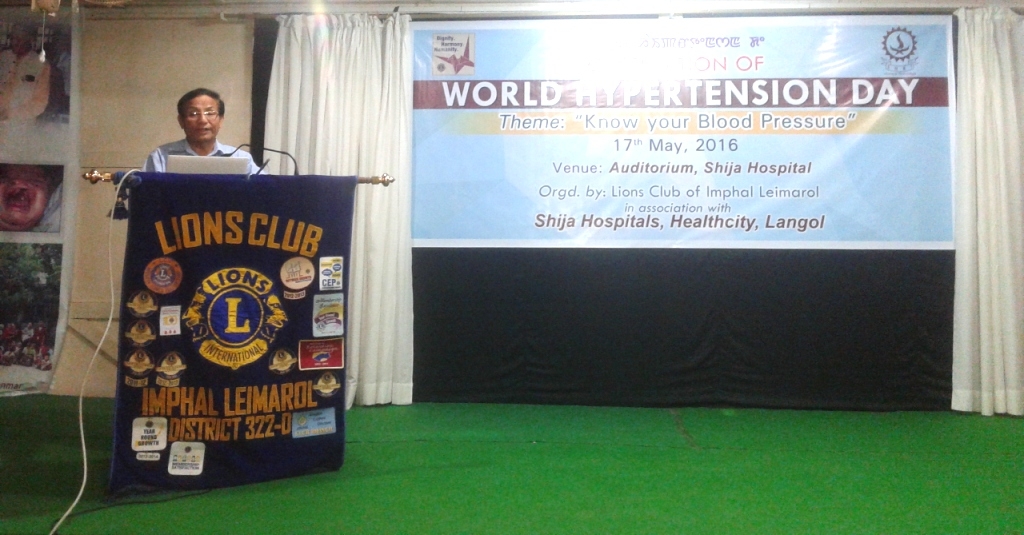 Imphal, May 17:  'Stress Management' is one of the most effective therapies for Hypertension while the therapy is mostly subjected to those hypertension patients with 50% coronary artery blocked.
Dr Palin, Chairman cum Managing Director, Shija Hospitals and Research Institute stated this at a function held in connection with World Hypertension Day observance under the theme: "Know Your Blood Pressure" at its auditorium hall this afternoon.  
Speaking on Stress Management, he said stress is nothing but negative thoughts. And negative thoughts come from regretting about past which is never coming back again and worrying of future which does not exist at the moment. So he said living at the present moment forgetting past worries and future worries will be the basis for a stress free life.
He said that 'thought' has been scientifically proven as 'vibration' and almost 900 different chemicals are released according to different types of thoughts which affect human brain at the cellular level thus positive vibrations has positive effect on human body and vice- versa.
The observance was organized by Lions Club, Imphal in association with SHRI.
Resource person of the observance, Prof M Kulachandra Singh, Senior Consultant, General Medicine of Shija critically highlighted and discussed about cause and different types of treatment for Hypertension.
Presently 30% of Manipur Population has been affected by hypertension, according to statistical figure.