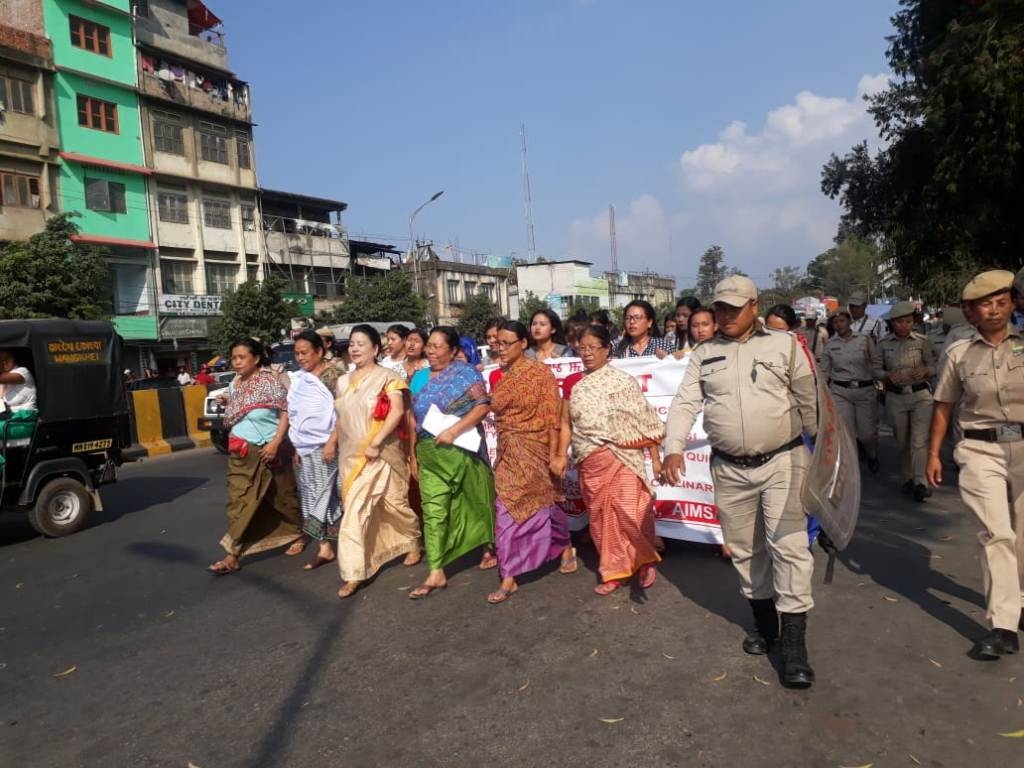 IT News
Imphal, Oct 7,
Large number of students along with vendor ladies of Khwairamband Ima Keithel and other civil society bodies continue to stage protest demanding release of the arrested Manipur University Faculties and students. A rally was staged at Khwairamband Ima Keithel shouting slogans for unconditional release of the arrested  faculty members and students of the Manipur University.
The rally spearheaded by AMSU, MSF, DESAM,  SUK, KSA and AIMS demanded immediate solution to the MU impasse by completing the ongoing enquiry into the Financial and administrative irregularities committed by Prof. AP Pandey at the capacity of the VC of Manipur University. 
Meanwhile, various women bodies of Wangkhei area comprising of Wangkhei Pujah Lampak Women Welfare Organisation, Chaokhat Khongthang Nupee Lup, Thangapat Mapal Mayai Leikai Women's Development Association along with Imphal Public Club Thangapat Mapal and Young Voluntary Organisation, Wangkhei today formed a joint body called Wangkhei Apunba Lup and discussed threadbare on yesterday students' uproar in front of the residence of Pro VC Prof. Yugindro. Police fired tear gas shells and mock bomb yesterday evening after large number of students thronged to the residence of the Pro VC at Wangkhei Thangapat Mapal.
The meeting resolved to request Prof. Yugindro to stay at security zone like government quarter until the ongoing impasse at Manipur University is settled as his presence among the locals is risky for the people of the area particularly the women and children of the area.
Failure to comply with the request of the locals may result the local bodies to take up stern action for safety of the localites.
A resolution copy of the meeting was received by Prof. Yugindro.
Mention may be made that, a letter written by Prof. Yugundro to the Secy. Of the MHRD, Dept. of Higher Education had angered not only the Manipur University Community but also the Governor of the State Dr. Najma Heptulla . As reported in a local daily, a letter addressed to the Pro VC from the office of the Governor had called on pro VC for explanation of defaming the Governor. The Office of the governor also condemns the word terrorist used to the agitators.
Meanwhile, President of Shiv Sena Manipur Pradesh, Moirangthem Tombi today demanded immediate resignation of Pro. VC Yugindro for defaming the Governor of the state and for calling the agitators as Terrorist.