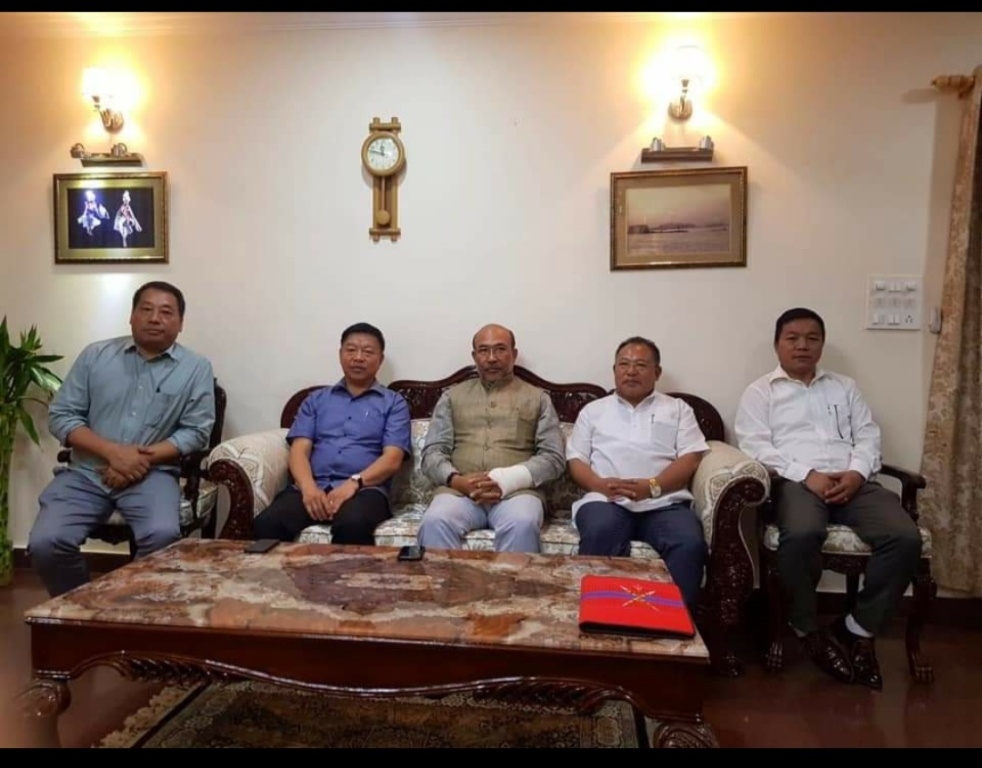 IT News
Imphal, May 25,
With BJP wining a landslide victory across the country crossing 300 numbers with one from the state of Manipur, the much talk about 'cracks' in the coalition government seems to be mended. Whether the N. Biren Singh led government reshuffle or not, his government is totally secure. The only problem the Chief Minister had was the threat from the NPF, to pull out from his government over non-fulfillment of the promises assured to the political party, at the time of forming the government.
Picture uploaded from reliable source at social networking site showed Chief Minister N. Biren Singh with NPF state president Awangbou Newmai and the newly elected NPF MP from outer Manipur Parliamentary constituency along with NPF Minister Kaisii posing for a shot showing smile together. The photo was reportedly taken while the team was waiting for the National General Secretary Ram Madhav at his New Delhi Office.
"NPF withdrawal is not going to give any effect to the N. Biren Singh Government when one look from the angle of numbers, but their withdrawal may be a headache for the government for reason which is known by everyone",   A political analyst said while talking over phone to Imphal Times.
The rumours about the NPF stand on the issue about withdrawing from the party also remain as a mere rumour which is not going to happen, he added. The political analyst who did not want to disclose his identity said that before the parliamentary election, as the air was not clean to the game plan of BJP there was possibility of dropping the Ministerial berth of some of the Ministers of the NPP, the party too seem preparing a game plan, but with the massive victory of the BJP crossing its number above 300 seats, the NPP too makes no further discussion over the issue. Whether they dropped the NPP MLAs to be replaced by BJP MLAs, they will still continue to support the government.
"This was stated by Health Minister L. Jayentakumar during a telephonic conversation to one of the local TV news channel some days back", the analyst said.
Meanwhile a source said that, even though the BJP led coalition government in the state drop out some of the NPP MLAs from their Ministerial berth, it is likely that, the government will not act anything like that to the NPF.