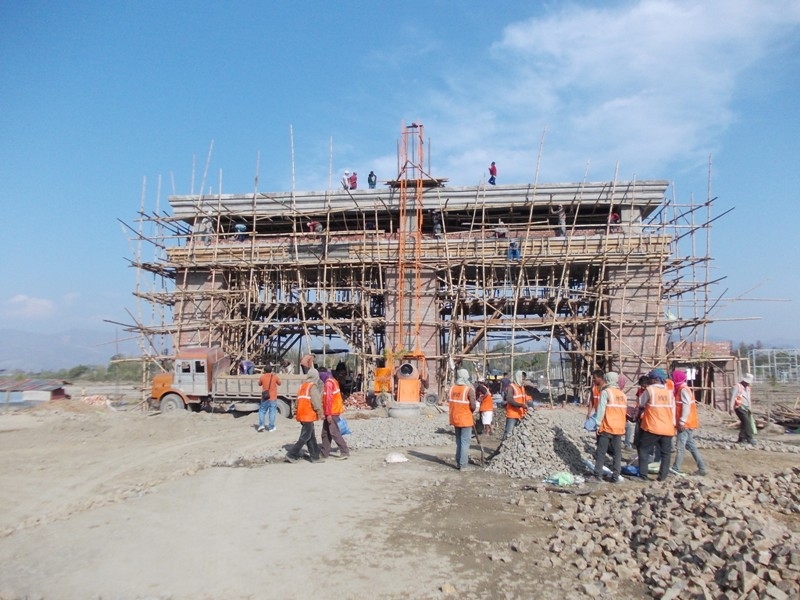 Rabi Takhellambam
Thoubal, April 9: As the construction of Mega Tourist Centre at Kongjom War Memorial as well as the front gate and Patriots Memorial Statues at Kheba Ching are yet to be completed even halfway, inauguration of the two edifices are not likely to be held on April 23, 2016 as scheduled.
The Chief Minister of Manipur, Okram Ibobi Singh has announced that the Rs 22 crore costing memorials would be unveiled by the President of India on the occasion of Khongjom Day. However, considering the progress of the work till today with the Khongjom Day celebration scheduled in only 12 days, it is evident that the inauguration for the Memorial Statues of Paona Brajabasi and the front Gate of the centre is unlikely to be held on time putting increasing pressure on the organizing committee and posing a challenge to celebrate the Khongjom Day on schedule this year.
According to a report from the construction site, it is also informed that even if the inauguration date has been fixed there is no hope for completion of the construction works within 12-days.
The old Drama Hall situated at Khongjom War Memorial Complex had been demolished to build another one along with the Mega Tourist Center. However, there is no tangible sign of starting the construction of the Drama Hall till date. In this condition, locals of Khongjom questioned the possibility of celebrating Khongjom Day.
While locals of Khejing village said that the Chief Minister has personally inspected the construction site of the Mega Tourist Center many times with some dwelling houses at nearby areas being demolished by the government, without finishing the row over the demolition of dwelling houses, how can the government construct the Mega Tourist Center?- the locals questioned.
The locals have also expressed condemnation over the government's decision of celebrating Khongjom Day in the afternoon instead of the normal timing of observing the important occasion of the people of Manipur in view of the President's arrival in the state.
They also appealed the government not to change the traditional timing of observing the occasion.