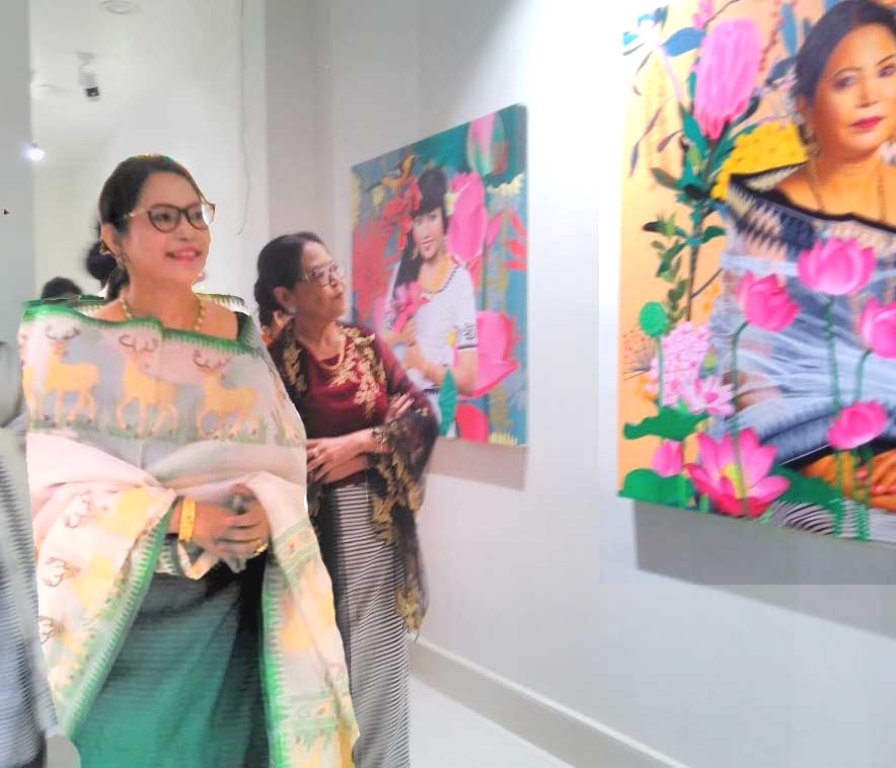 IT Exclusive
Imphal, Nov 25,
Nongthombam Ongbi Hiyainu,  wife of Chief Minister N. Biren Singh , was seen enthralled seeing her own portrait hanging among the aesthetically designed gallery of KAI group, which was inaugurated yesterday evening at Kangjabi Leirak here in Imphal. Perhaps the occasion was the first time that Hiyainu attended inaugural function of World Class Event management entrepreneur. Beside her was RK Memi , DIG Crime Branch and Director of Fire Brigade and also Dr. K. Sobita Devi, former Director of Arts and Culture Department.
As according to programme conductor Imomacha Heishnam, KAI is an event management group with Ngangom Silvia as the Chief Executive Officer. Her team includes young fashion designer Sailex Ngairangbam and fellow contemporary artist Dilip Oinam. The painting displayed at the gallery of KAI is the work of young and energetic artist Dilip Oinam and the aesthetic designed which kept media persons and visitors could not stop clicking photo shots is the work of Sailex Ngairangbam with full coordination from KAI CEO Silvia. It is usual that inaugural function of any offices of entrepreneur by VVIP, VIP or Social workers is a normal trend. But there is something exceptional that the KAI inauguration was conducted.
Hiyaina, mother of 3 children and the wife of Chief Minister appearance as the chief guest in her most suited traditional attires as the best artistic make up showed that when Art meets fashion, someday it may be possible that KAI 's innovative idea will make Angels or the Apsaras.
Hiyainu's soft words which appreciated the young team is enough for all to proof that "She deserved to be the wife of Chief Minister". An artistic portrait of "Mangka"- the renowned Folk singer of Manipur welcomes the KAI gallery. After cutting the ribbon, Hiyainu along with DIG Memi and former Director Dr. K. Sobita entered and were seen caught by the aesthetic design and painting of the KAI team. As they walk all eyes were caught by a portrait of N. Hiyainu, the wife of Chief Minister N. Biren Singh. The oil painting portrait seem to be drawn when the chief Minister's wife did not mix the art of make up and had never demanded the traditional attires. But her simplicity reflected on the portrait make everybody keeps their eyes for hours. As for the Chief guest N. Hiyainu except for a shy smile, she gave no comment. Her eyestalks and smile showed that she appreciated the work.
A reporter, next to this writer murmured, "Our Chief Minister become successful because of her wife madam Hiyainu".