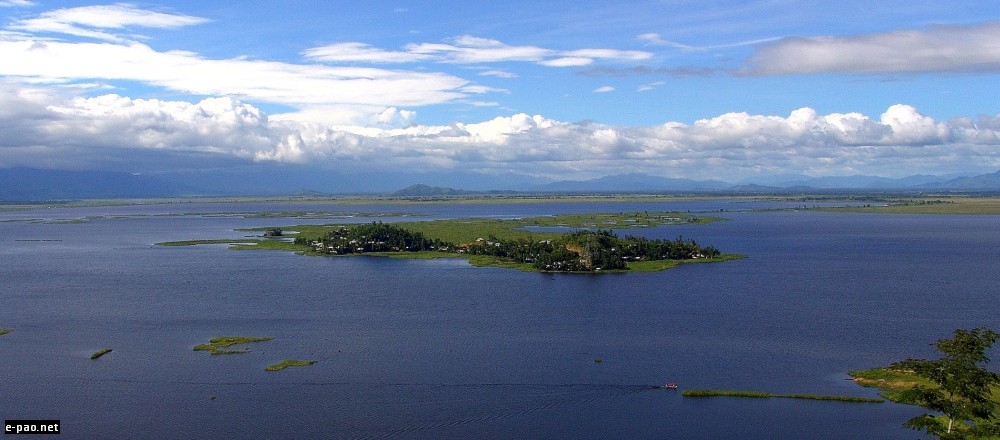 Fishermen of Langolsabi, one of the floating villages of Loktak Lake, said that water level of Loktak lake, the largest freshwater lake of North East India, is reducing day by day and the lake may extinct in few years.
During a tour at some floating villages at the lake, the inhabitants of Langolsabi area expressed their concern over the changes of the lake and said that many portions of the lake have been dried up forming playgrounds at the middle of lake. "Next to the world's only floating national park- Keibul Lamjao National Park- it would be another record for the state to have a playground at the middle of a lake", said a villager ironically.
Pointing towards a dry area at the middle of the lake, a villager of the areas and Secretary of All Loktak Lake Fishermen Union, Manipur (ALLAFUM), O Rajen said that this one of the dry areas where fishermen who are inhabiting at the lake use for public meeting and other purpose. It would be hard to imagine for someone who come from valley area to see dry land at this largest fresh water lake in the north east India. But the fact is before our eyes.
'Loktak is our mother; she feeds us. However, since tons of pollutants- bio and chemical wastes have been deposited at the lake for years, the mother Loktak is now become a big dustbin,' a fisherwoman lamented.
Thanks to state and central governments for taking up projects such as Ithai Barrage, Khuga multipurpose and Singda Dam that obstruct the natural course of upstream and downstream rivers.
According to report, around 36 rivers feed the lake. Urban wastes and sediments brought by these rivers dump into the lake leading the lake shallow day by day. The only outlet – Ungamel stream- removes excess water while the sediments remain at the bottom of the lake.
When meeting some of the fisherwomen folk of Langolasabi, it was also informed that the dried up portions of the lake are now also considered as ideal spots to organise Thabal Chongba and many other functions during festivals.
The fishermen further added that it is high time for the government to take up immediate measures to prevent the Lake from extinction. They also want the environmentalists to come up with ideas to save Loktak Lake. Otherwise we may not see water in Loktak Lake after few years.