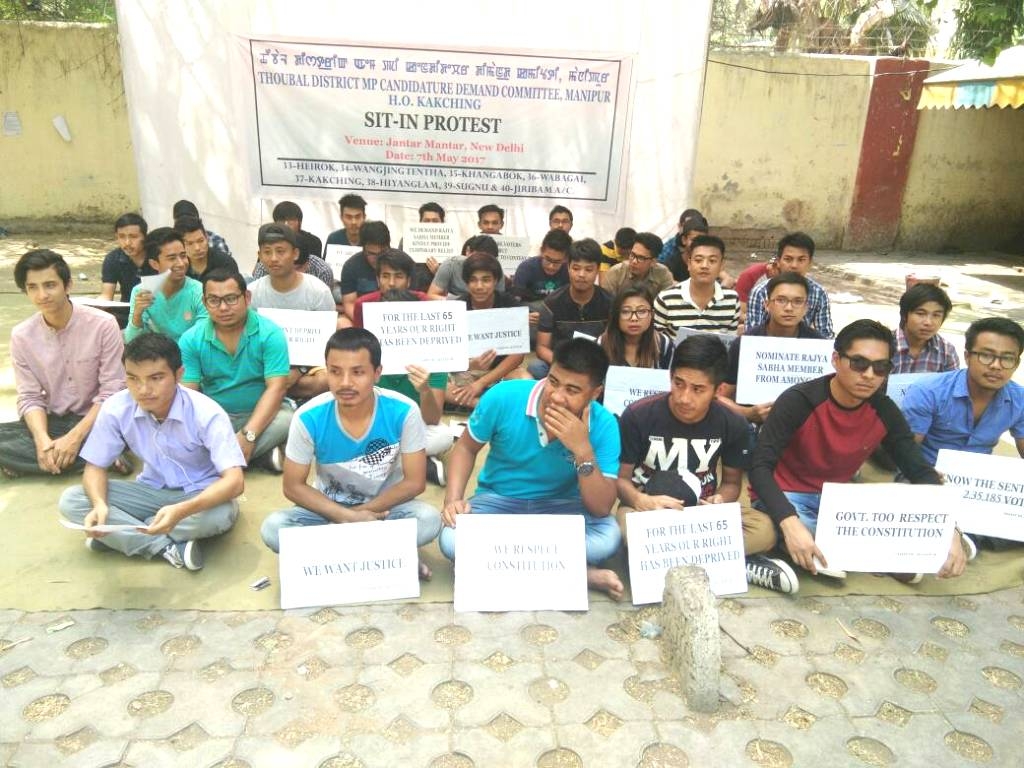 Imphal, May 7: Representatives of voters from 8 assembly constituencies of Outer Manipur Parliamentary Constituency today staged a sit-in-protest at Jantar Mantar Road, New Delhi demanding their political right to contest in Lok Sabha election or else to nominate the Rajya Sabha seat to a person from among the 8 assembly constituencies.
The 8 assembly constituencies are Heirok, Wangjing Tentha, Khangabok, Wabagai, Kaching, Hiyanglam, Sugunu and Jiribam assembly constituencies of Thoubal, Kaching and jiribam district.
As the seat for the outer Manipur Parliamentary constituency is reserved for the ST, none from among the assembly constituencies could contest the election since 1972.
"We are almost 2nd class citizen in the Republic of India and at many occasions, the aggrieved people under different organisations demanded for the reddressal of the genuine and specific problem", said a statement of the Thoubal District MP Candidature Demand Committee , which organised today's protest at New Delhi.
The committee had earlier staged a protest on April 21, 2003 and submitted a memorandum to the Chairperson of the Delimitation Commission highlighting the problems.
"The continued denial of the democratic right to contest in our own home constituency is a gross injustices and the trend is destined to linger upto the nest delimitation -2026, thereby extending the denial for another 10 more years", the committee said.
It further demanded to nominate a person from among the constituencies in the Rajya Sabha Bye-Election for the state of Manipur scheduled to hold on May 25 after the death of Haji Abdul Salam on February 28, 2017.