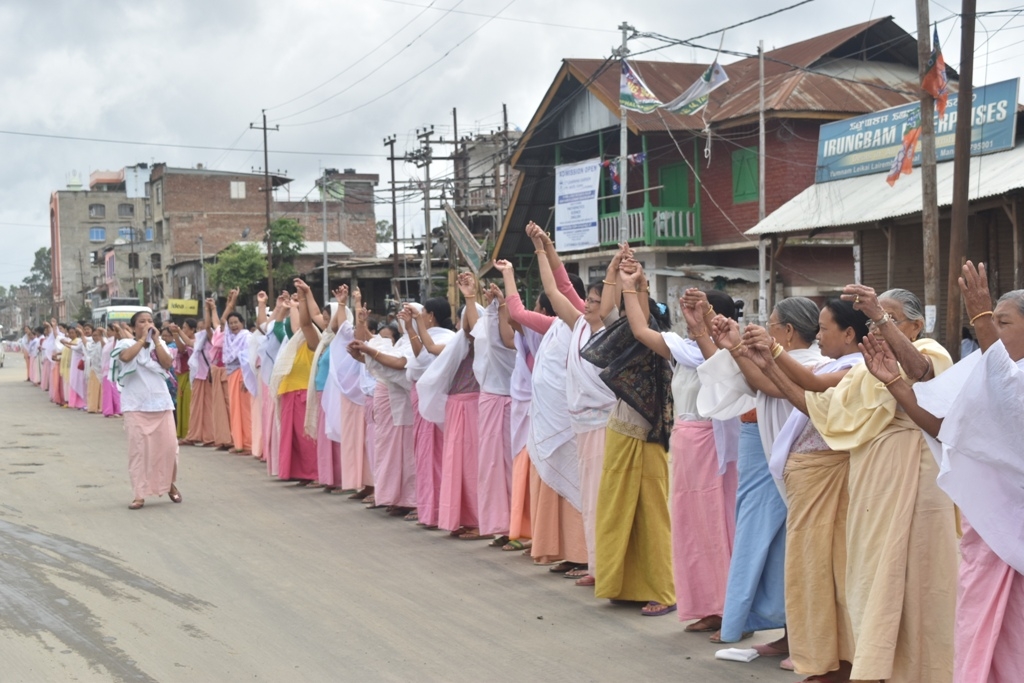 Imphal, June 10: Even as JCILPS had declared series of protest to be staged at different places on phase manner, the announcement of the JCILPS seemed to be not clear to the supporters. As announced large number of women folk came out at the street in between Lilong to Moirangkhom area. The JCILPS had announced democratic protest by blocking only half of the road but the other half open for vehicular movement. The JCILPS also appealed to form human chain and shout slogan from 2pm to 3 pm.
Contrary to the announcement made by the JCILPS leaders, the supporters of the JCILPS supporters came out at the street from around 12 noon and staged sit-in-protest. Later after few minutes some of the agitation supporters started placing woods and planks at Moriangkhom area preventing almost all vehicular movement at both side of the road.
Similar kind of complete road blockade was also seen at Sougaijam Leirak Machin, Kakwa and Naorem leikai Boroi Makhong. Male supporters were seen disallowing any vehicles trying to cross it. Even reporters were not allowed to pass through by some of the agitators.
Some people were seen confused and left with desperation as they were not aware of the kind of agitation which occurred without any announcement. Inconveniences were also cause to many whose wards were sent to school thinking that there would not be any total road block at the site as announced by the JCILPS.