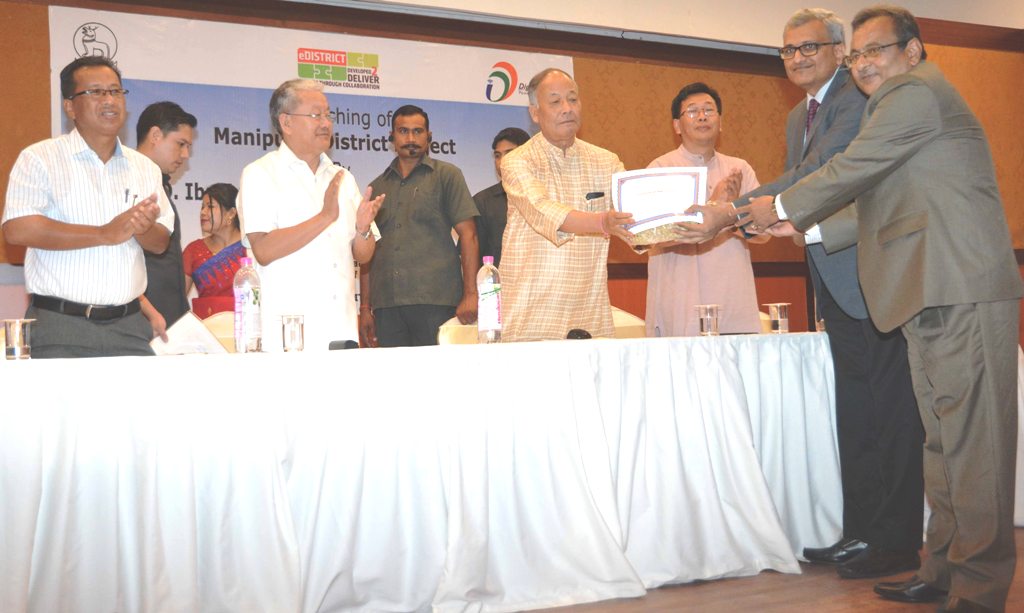 Treasuries are among the first offices to be fully computerised in the State. Computerization of all Treasuries was initiated during the year 2005-2006 with funding by the 11th Finance Commission. The hardware installations were taken up then along with Computerisation for bill passing through "Treasury Net" software.
Computerization of pension database and payments for all Pensioners of Manipur was taken up during 2007-08, and it has helped in Computerised Pension calculation, life digital photography of pensioners replacing manual and lengthy procedures. Computerisation of Pension payment was initiated for eradicating the inefficiencies of manual pension payment system thereby reducing delays in pension disbursement and removing fraudulent practices.
Manipur is the only State in the North East where pension preparation is done by the Treasuries while in other States, it has been handed over to the bank. There are at present around 48000 pensioners/family pensioners. In recognition of the work of pension preparation by treasuries, the Directorate of Treasuries & Accounts, Manipur has been felicitated as the Award Winner at the 3rd e-North East Award, 2012 held at Gangtok, Sikkim on 22-23rd of November 2012.
The National Pension System (NPS) was introduced in the State for the Government employees joining the state service on or after 1st January 2005. Till date there are around 23,500 NPS subscribers in the State. The Directorate of Treasuries & Accounts ensures regular credit of contributions to the respective NPS Subscribers' Accounts. The Directorate has taken up various initiatives to sensitize the concerned stakeholders, like DDOs, Subscribers, etc. by way of conducting numerous Trainings & Awareness Programmes.
During the Financial Year 2015-16, a huge backlog of NPS contributions of employees of the Government of Manipur has been successfully credited to the respective subscriber accounts. Prompt action as regards 15 timely submission of NPS related registrations and contributions have been taken up by subscribers as well as DDOs following the awareness.
In consultation with RBI, payment of monthly salaries of employees and other personal entitlements are done through Electronic Clearing Services (Credit) from the month of October, 2009. Manipur is the first State in the entire North East to take up electronic fund transfer for Government payments in a big way using ECS (Credit) of Reserve Bank of India (RBI). RBI not only appreciated Manipur for being a model state by leading the other States in the North East for making ECS(Credit) for salary payment but also awarded the "Jury Special Mention" (which was the second Prize) at the "2nd e-North East Awards, 2011" in a function held at RIELIT, Kohima, Nagaland on the 25th of November 2011 for the project on "The Payment of salary through ECS (Credit) for the Government Employees of Manipur" in the category of "ICT & Financial Inclusion". Further other forms/versions of electronic payments like Regional Electronic Clearing System (RECS) of payments for salaries & pensions, National Electronic Fund Transfer (NEFT) and Real time Gross Settlement (RTGS) and further, Cash management Product (CMP) of SBI has been introduced successfully in the State. The main objective of the entire shift in payments is to enhance transparency in fund transfer, ease of doing financial transactions and to develop a trail of fund flow.
The Treasury/Sub-Treasury Offices have large volume of records related with financial transactions of various offices. Hence, concept of cataloging of 16 records and using colour codes for easy identification has been introduced. It has been a revolution in record management in Treasuries as any record can be retrieved within few minutes. All Pension Payment Orders (PPOs) have been kept using locker system (vertical shelve lock system) from January, 2010 onwards. Treasury offices are among the first Offices in the State after Archives and Library to introduce proper records management.