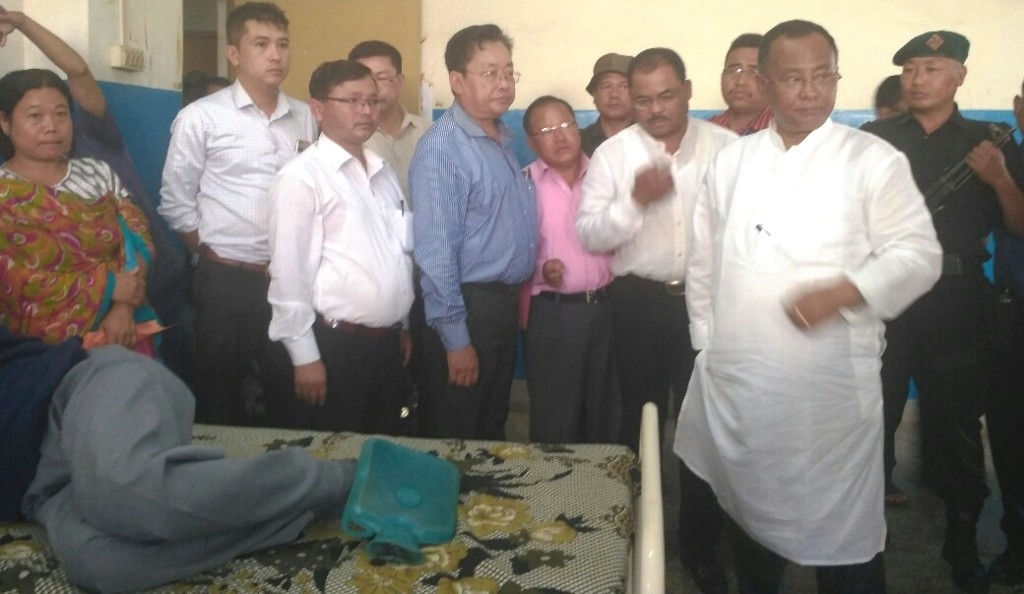 Imphal, May 24: Health minister L Jayentakumar has assured that health-care is one of the main focus areas of the state government and it will work relentlessly to deliver the aspiration of the common people to have good health and longetivity by making rapid improvement in state-run hospitals.
The minister made the statement today at Thoubal District Hospital while talking to local leaders and volunteers, representatives of clubs, officials of the district health department and staffs after taking a tour of the hospital.
Thanking the local people for inviting him to take a direct assessment of the state of affairs of the hospital, the minister made a pledge to install all basic requirements so that both the doctors and nurses and patients find the ambience of the hospital satisfactory.
However, the government single-handedly cannot enhance the functioning of the hospital and in this endeavor both the medical staffs and local people need to assist by working with commitment and dedication believing that it is for a social cause.
He agreed to send engineers within the next couple of days to repair the toilets and some run down portions of the operation theatre expressing fear that the insanitary conditions at those places could put the patients at risk of more diseases instead of healing them.   
As a representative of the government, I assure you that a new trauma centre will be added to the Thoubal District Hospital to cope with accidents and emergencies, Jayentakumar said.
He also promised to initiate actions against erring staffs who have been accused of taking money from families of patients before performing surgical operations, citing recent cases of suspension of staffs in the department for taking wrongful advantages of people who came to get medical treatment.   
CMO of Thoubal Dr N Jayentakumar, DPM, NHM Ch Basanta and youths, leaders and club representatives from the localities accompanied the minister in the inspection.