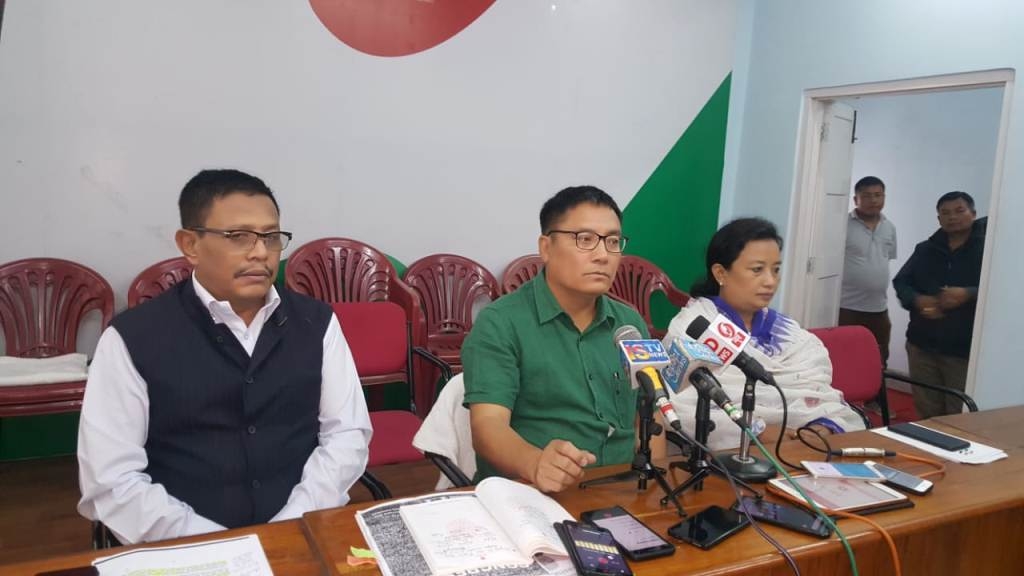 IT News
Imphal April 9,
Defying on the agenda of CAB highlighted on the Manifesto of BJP where they intend to pass it if they come to power, Spokesperson of Manipur Pradesh Congress Committee (MPCC) I. Hemochandra said that the 17th Lok Sabha election is a crucial election which will be a fight for the life and death of the indigenous people.
Speaking to media persons in a press meet held at Congress Bhawan Hemochandra said that the future of the people of Manipur is at stake due of the recently published manifesto of BJP on how they pushed the agendas of wiping out the indigenous minorities.
Hitting hard on a BJP spokesperson at which they stated that CAB will not affect the state, Hemochandra said that such statement is a blatant lie and an insult to the people of the state.
He said that even though the BJP claimed to put the nation first they tried to demolish the indigenous minorities by sending illegal immigrants sidelining various protest and agitations by the people of the North East.
He further appealed the people to let aside all the developmental works and the schemes which were manifested in the manifesto for all political parties and to focus primarily on the issue of CAB where BJP put it in their Manifesto to implement it.
Hemochandra questioned the existence of the people of North East if CAB is implemented and added that BJP only gives lip service when they said that they will protect the indigenous people by adding a clause.
He said that the Congress Party stands firmed and puts in black and white regarding CAB that they will stand firm and removed the contentious CAB. He further said that by putting as an agenda in the manifesto of the BJP where North East burned because of it simply adds fuels to the burning fire. He added that the attitude of BJP neglecting the minorities is a very dangerous trend.
Regarding AFSPA Hemochandra said that they have made their stand clear as the Congress has put on its manifesto to review it.
Reacting to the blame on congress party by BJP spokesperson over the passing of AFSPA Hemochandra questioned the BJP on why the present NDA government led by Modi which has been ruling for the past 4 years and Biren which governed the state completing its two years did not removed or repealed it.
 Hemochandra said that the very BJP supported AFSPA and it is clear from the statement of Defense Minister where she said that removing AFSPA will demoralized the armies.
He said that on common issues like CAB and AFSPA there should not be any difference between the state party and the central leaders.
He finally appealed the people to vote wisely as the upcoming election is a crucial one which will decide the future of the people and further questioned the position of Manipur if BJP comes into power.