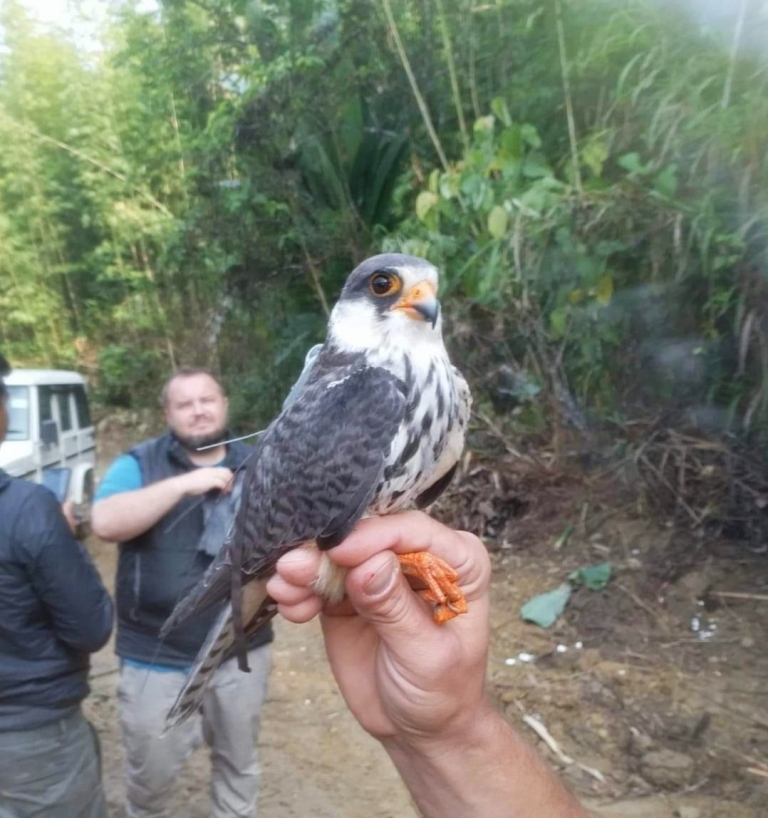 Imphal, Nov 26,
The Forest and Environment Department, Government of Manipur has a reason to cheer as Tamenglong, the radio satellite tagged female Amur Falcon successfully reached Somalia, the easternmost country in Africa and lies along the Gulf of Aden and the Indian Ocean.
The spectacular journey of Tamenglong has captured the imagination of the citizens of Manipur, experts and lovers of Wildlife.  The Tamenglong reached Somalia covering the distance of 5,700 kms, flying non-stop for a total of five days and eight hours reaching on November 24 at 1:00 pm IST (Indian Standard Time).
The radio tagged migratory bird left its roost site in Tamenglong district in the morning of November 19. The GPS data on November 20 showed that the bird was flying over Odisha eastern shore, covering an average distance of 170 kms per hour. Experts monitoring the bird reported that Tamenglong was covering a distance of 40 kms in an hour on the particular day.
On November 21, Tamenglong along with Longleng, another radio tagged Amur Falcon were flying over the Arabian Sea, both of them were heading towards the African continent. Tamenglong had already covered a distance of 3,500 kms, as per the report received on the day at 7:08 pm (IST).
Longleng, also a female Amur Falcon was radio tagged at a roost site in Yaongyimchen village in Longleng district of Nagaland on October 30, 2016. Experts monitoring the Longleng reported that the migratory bird was actively transmitting data since then in Dimapur in the middle of October this year. After a stop-over for a month, Longleng also started migrating on November 19. It had covered 3,000 kms, as per the GPS data received at 11 pm (IST) on November 20.
The marathon journey of Tamenglong finally ended on November 24 after it reached its next roost site in Somalia at 1:00 pm (IST). Tamenglong reached its destination after flying 5,700 kms non-stop for five days and 8 hours crossing the Arabian Sea. Meanwhile, Longleng has reached Kenya.
Amur Falcons weighing on average 160 grams are long-distance migratory birds and arrives in North East India mainly in Manipur and Nagaland on their south-bound migration during October from their breeding grounds in Northern China, Eastern Mongolia and far East Russia en-route to their wintering grounds in South Africa. The one-way journey from their breeding to wintering grounds via India is about 20,000 kms and the birds do this twice a year.
Amur Falcons spend three to four weeks in many parts of Manipur to build fat reserves by foraging on termites that emerge during this time. As a result, this stop-over site in North East India becomes extremely crucial to the Amur Falcons as they need to make a five to six days non-stop flight across the Peninsular India and then make a sea crossing over the Arabian Sea to their next stop-over site in Somalia.
Due to the abundant termite and other insect food available to the Amur Falcons in Manipur and Nagaland, it is now learnt that almost all of the world's Amur Falcons pass through this region. To support the conservation efforts initiated by State Forest Department for protection of the Amur Falcons during their migratory stop-over in Tamenglong district, a satellite tracking program to understand the movements of the birds was taken up.
On November 4, a team of officials led by Dr Suresh Kumar, a senior scientist of Wildlife Institute of India, Dehradun; Tamenglong Forest Division officials led by Arun RS, Divisional Forest Officer and Peter, Raptor Biologists from Hungary captured five Amur Falcons using canopy mist-nets at a community forests area of Chiuluan village along the Barak river in Tamenglong district. Every year large number Amur Falcon (locally known as Akhuaipuina), migrate in the district.
Two fittest birds out of the five were attached with GPS satellite tags and released in the morning of November 5, the day '4th Amur Falcon Festival' was celebrated under the theme 'Honour the Treasured Wings'. Male bird was named 'Manipur' while the female as 'Tamenglong'. The officials with the help of village leaders informed the villagers regarding the satellite tagging of the birds.
It is worth noting that this is for the first time that the satellite tagging on Amur Falcon is done in Manipur and for the third time in North East, also done by the same team. It was first initiated in Nagaland in 2013.
In a tragic and unfortunate incident, Manipur was hunted at Khebuching bordering Tamenglong district and Noney district on November 9 despite the prohibitory order issued by Tamenglong District Administration banning usage of air guns along Irang river near Gwangram, Puching, Rangkhung and Taobam villages.
Amidst hue and cry following the hunting of Manipur, State Forest Department, Wildlife experts, local leaders and residents of Tamenglong district and Noney district swung into action spreading awareness to save the migratory birds. A team of Forest Department along with few media persons also rushed to Irang river roost site, where Tamenglong had flown, to spread awareness to the locals.
Aftermath the hunting of Manipur, massive awareness campaigns were carried out by the Forest Department along with the Wildlife experts and locals, fearing for the lives of Tamenglong, other birds and wildlife. In a historic moment, number of locals of Tamenglong and Noney voluntarily surrendered their air guns, a gesture which was never seen or heard before. Various village authorities issued circular to residents to surrender air guns as they could not take chance this time.
As an initiative to save Amur Falcons, Forest and Environment Minister Shri Th. Shyamkumar on November 6 inaugurated Information & Interpretation Centre and five Amur Falcon watch towers at a function held at Phalong (Bhalok) village. Two Amur Falcon watch towers are located at Phalong (Bhalok), one each at Sonram, Azuram and Bamgaijang.  
Principal Chief Conservator of Forest and Head of Forest Force Shri K. Angami even announced that the Forest Department will urge the State Government to declare Tamenglong as the Amur Falcon district at the 4th Amur Falcon Festival.
The State Forest Department, Wildlife experts and other stakeholders have been wholeheartedly working for the conservation of wildlife including the Amur Falcons. It is the duty and need of the hour that every citizen must come forward to support the initiative of environment and wildlife conservation for a better Manipur. It is the right time to act rather than repent later.