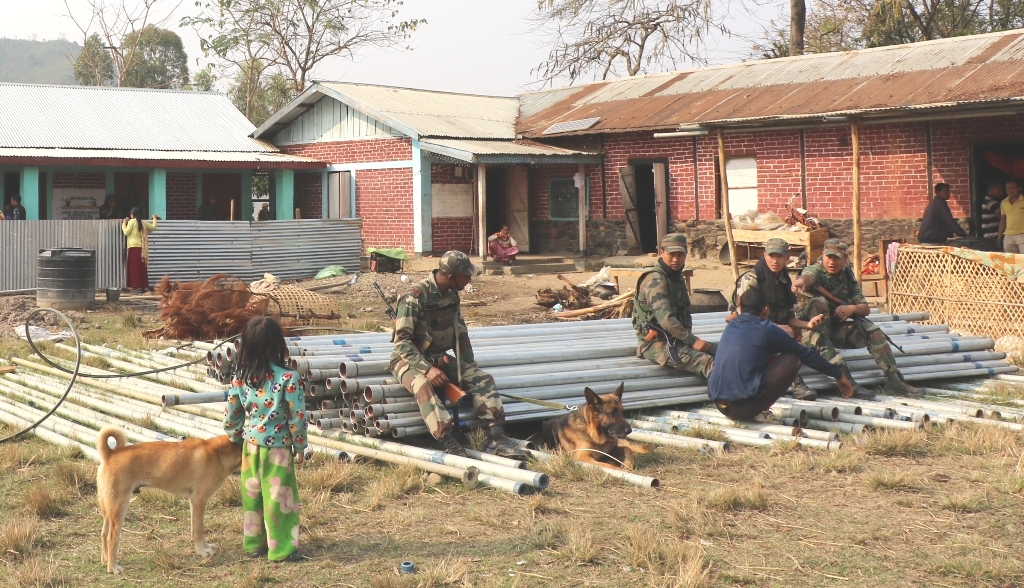 Indiscriminate firing lasted for around 30 minutes
Unknown armed persons suspected to be cadres of a rebel group operating in the region attacked the temporary designated camp of United Revolutionary Front (URF) Chingkheinganba group located at Napet under Lamlai Police Station using automatic weapons and explosives at around 11.00 pm yesterday. Report said the armed cadres numbering around 6 to 10 persons fired indiscriminately towards the gun using sophisticated weapons including AK series, lethod and explosives for around 30 minutes. Police said the automatic weapons to be AK -47 and M16 rifles.
Early today morning an unexploded hand grenade without safety pin was recovered from the door of the officer room of the camp by a team of Lamlai Police. Later the hand grenade was disposed at Kangjeibung Loukol by the Manipur police team. The police team also recovered 40 empty cases and 7 projectile of AK 47, a plastic AK 47 magazine along with 8 live rounds, 3 projectile of M16.
However, there is no report of any human causality in the attack. A Honda Dio, one refrigerator, a washing machine worth around Rs 1.5 lakh were damage in the attack. The police team also found several bullet holes at the walls of the camp.
Speaking to the Media persons, chairman of the URF Chingkheinganba group, Ngangom Soviet @ Chingkheinganba said that his group was under Suspension of Operation with the state government after signing an agreement on February 13,  2013.  Earlier the surrendered team was allotted accommodation at Laithangkhunou spinning Mill, Loitang Khunou. However after a conflict with the  Lalheiba group at which a cadre was reportedly killed and cooked, 37 cadre of his group were were shifted at his birth place at Napet village on May 2014.
He further added his group has been threatened in many occasion by KCP Lalheiba group however after the state government arrested them there was no more threats from any UG group. He appealed those responsible to clarify the reason of the attack and appealed the state government to provide effective security.