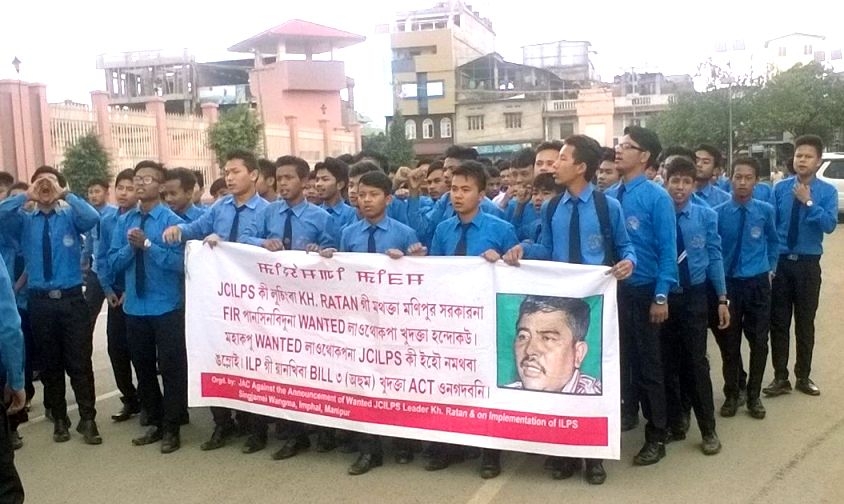 Imphal, July 23: Braving heavy downpour, students of CC Higher Secondary School and UNACCO School carried out a protest rally from the school premises upto Singjamei Bridge today demanding immediate implementation of ILPS in the state and withdrawal of Wanted tag impose by state government on former JCILPS Convenor Kh Ratan without any condition.
At around 11 today morning, students of CC Higher Secondary School began the protest rally in spite of obstructions by Imphal East police personnel that were already present at the school gate.
 The students took out the rally along the road way of Konung Mamang, Palace Compound, Bamon Leikai, when reaching Khongman Mangjil area, students of UNACCO School joined the rally till Singjamei Bridge where they staged a sit-in-protest preventing vehicular movement along the Singjamei Bridge.
Speaking to media persons, Robinson Khundrakpam, student of CC higher Secondary School said that today the students mobilized to carry out a peaceful rally but unfortunately police personnel had already set up barrack in front of the school main gate to stop the rally.
To pass through the barrack, violence between the students and police personal occurred in which two students were badly injured in police action, he added.
Condemning today's act by the police personnel, Robinson further said that it is evident that the police are recruited and deployed to beat students instead of guarding them. A more powerful form of protest and agitation will be carried out in the future until the ILPS is implemented in the state, he added.
The 2 injured students have been identified as Ningthoujam Roshan from Moirang, injured at his neck and face and another Laishram Yohenba from Kiyamgei, injured on the back head. Both are students of CC Higher Secondary School studying in 12 Science.
They have been hospitalized at JNIMS.
Meanwhile, students of Johnstone Higher Secondary School also took out a protest rally in the heavy rain along the Singjamei- Keishampat stretch. Later the students shout many slogans at Keishampat demanding implementation of ILPS and revocation of wanted tag on Kh Ratan immediately.
On the other hand, in continuation of the ongoing fast-unto-death protest, another 4 students (
Irom Jotinkumar ( B.Sc 1st Sem, Liberal College) s/o I Dinachandra of Mana Ingkhol mayai Leikai, Rk Sitam Singh (12 Arts, Johnstone Higher Seconday School) s/o Rk Maipaksana of Kongba Uchekon Chongabi, Thokchom Leonardo ( Class 10, CC Higher Secondary Shool) s/o Th Joyshankar of Singjamei Mayengbam Leikai, Ningthoujam Linthoi (Class 11, Lamlong Higher Secondary School) d/o N Manglem of Khurai Lairikyengbam Leikai) from different schools have volunteered and begun the protest from 9:50 pm of July 22 night for 2nd phase.
The fast unto-death protest have been going on since the night of July 18 by 4 students of different schools demanding implementation of ILPS in the state and withdrawal of wanted tag on Kh Ratan.