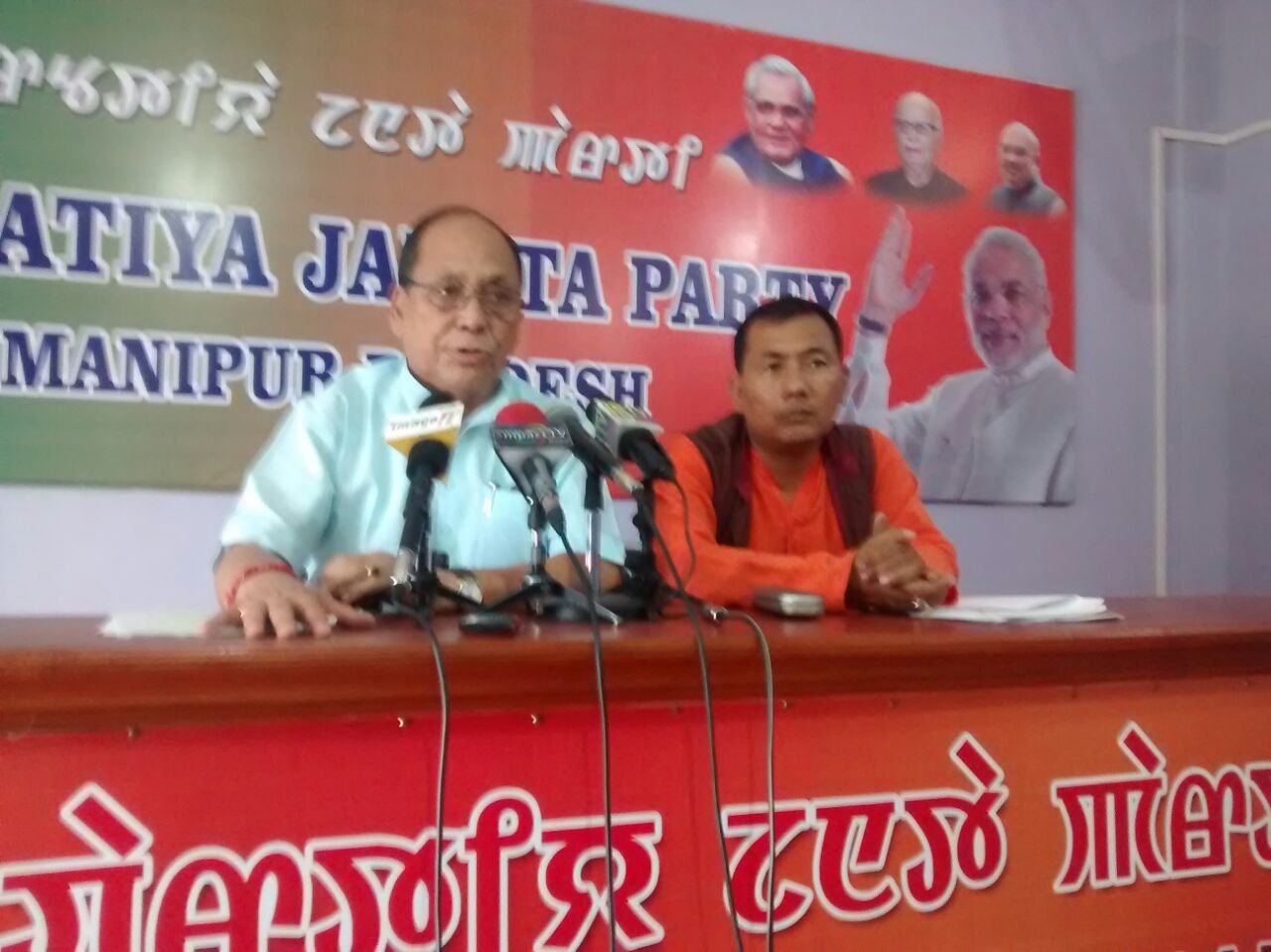 Imphal, July 1: BJP Manipur Pradesh today triggered fresh row over the appointment of Parliamentary Secretary Congress government led by Chief Minister Okram Ibobi, terming it as 'unconstitutional'.
Speaking in a press conference held today at BJP Manipur Pradesh Office, Convenor of the Election management Committee, Th Chaoba said that by appointing 5 parliamentary secretary which is equivalent to the Minister of State, the government of Manipur has violated the provision provided under Article 164 of the constitution of India.
Chaoba said that after the amendment of the article in 2003, Article 164, sub section 2 (1A) says that the total number of Ministers, including the Chief Minister, in the Council of Ministers in a State shall not exceed fifteen percent of the total number of members of the Legislative Assembly of that State, provided that the number of Ministers, including the Chief Minister in a State shall not be less than twelve. As for smaller states like Manipur which have less legislators the number of Ministers can reached 12 including the Chief Minister as according to the 91st amendment of the Constitution of India but cannot exceed the number.
He further said that, after inducting 12 cabinet Ministers, the Okram Ibobi Singh government inducted 5 more legislators as the Parliamentary Secretary on October 10, 2012.  As according to the gazette notification of the state government the Parliamentary secretary is equal to the Minister of state as they enjoyed the equal status in terms of pay and rank.
Chaoba said as according to the sections 5 of the gazette, it is stated that the functions and duties of a Parliamentary secretary shall be such as may be specified, by notification in the official gazette by the Chief minister and as according to the section 7, it is stated that a parliamentary secretary shall be entitled to such salary and allowance as are admissible to a Minister of state under the salaries and Allowances of ministers Manipur Act 1972.
As the parliamentary secretary are equal to ministers it is in violation of the Article 164 of the Indian constitution, said Chaoba and stated that the matter will be taken to the Supreme Court besides, putting the matter to the notice of the Central Government.
He further said that all the salary enjoyed by the 5 parliamentary secretaries should be recovered.