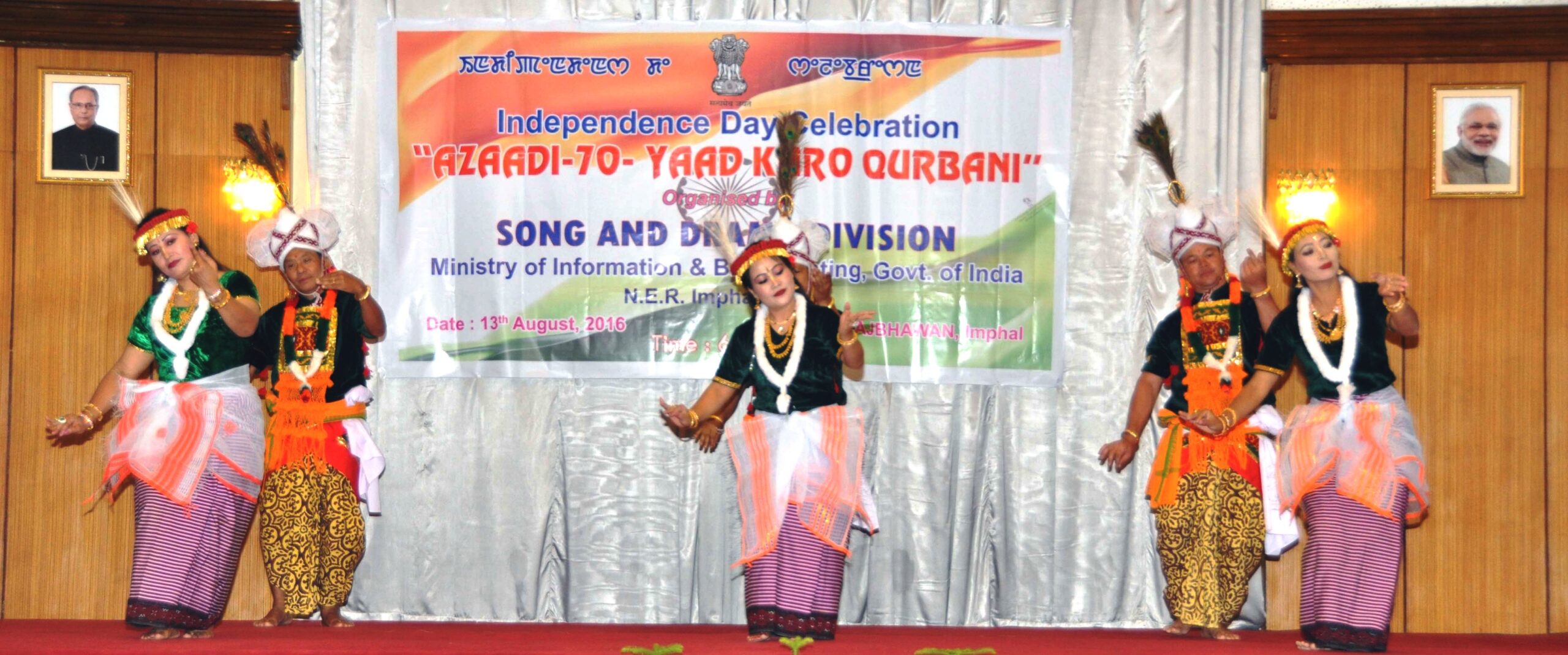 DIPR
Imphal, Aug. 14: In connection with Celebration of Indian Independence Day under the theme 'Azaadi 70 years: Yaad Karo Qurbaani', Song and Drama Division, Ministry of  Information and Broadcasting, Government of India,  NER, Imphal centre organised  a Cultural Programmes  at  Durbar Hall, Raj Bhavan, Imphal  yesterday.
During the programme, artistes of the Song and Drama Division,  Imphal centre presented 13 items which includes, Bande Mataram (National Song), Laiharaoba Dance (Manipuri folk dance), Wangna Pairi (Manipuri patriotic song), Ae Mere Watanki Logon (Hindi Patriotic song), Taina Taina (Creative dance of Tamil Nadu), Stick dance (Creative dance of Manipur), Manipuri Martial Arts (Dragger Fighting), Lamdamsida Pokchaba Lamdamsida Chaojaba (Manipuri Patriotic song), Lavni Dance (Maharastra), Dhol Cholom (Manipur), Kabui Naga Dance (Manipur), Sare Jahan Se Accha (Patriotic song), Jana Gana Mana (National Anthem).
The Song and Drama Division was set up as a small unit in the year 1954 and started functioning under the Directorate General, All India Radio.  In 1960 the Division assumed its separate entity and was established as an independent media unit of the Ministry of Information and Broadcasting. The main function of the Division was to create awareness among the general public through live media utilizing wide range of performing arts for propagating various policies, programmes and the schemes of the Central government with different theme such as, communal harmony, national integration etc.
The cultural programme was also graced by Manipur Chief Secretary Shri O. Nabakishore and Director General of Police Shri L.M. Khaute.  Later, the Governor Shri V. Shanmuganathan had interaction with artistes of the Song and Drama Division, Imphal Centre.