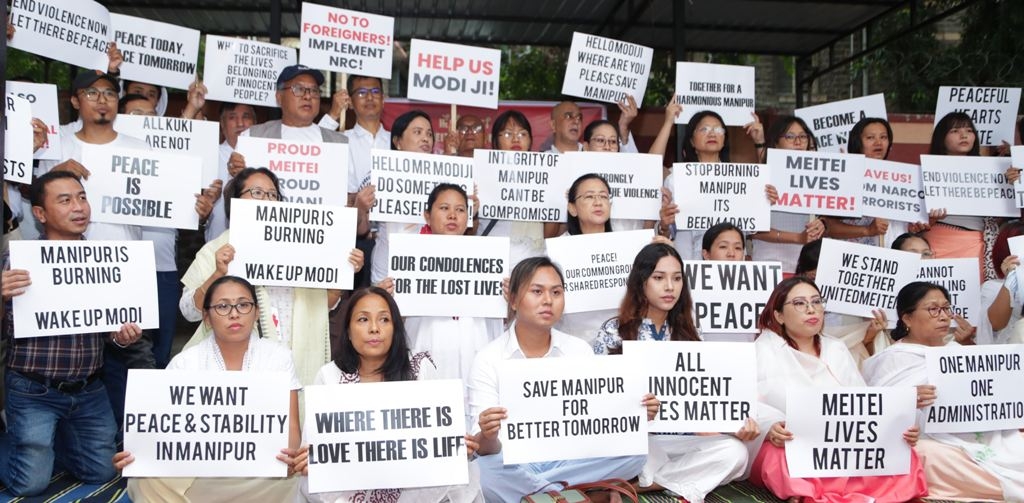 IT News
Imphal, June 27:
A sit-in-protest against narco-terrorists and illegal immigrants in Manipur was held yesterday, Near Collector's Office, Pune from 5 pm to 7 pm. The protest was organised by Meitei Nupi Lup, Pune.
One minute silence was observed as a mark of honour to those lives lost in the violence in Manipur.
Over 115 people have lost their lives and 45,000 people have been displaced, and taking shelter in rehabilitation centres while reports of heavy firing is still coming in every day. People are living in this war-like situation with multiple security forces, mob build-ups, and clashes in many areas of Manipur, yet the Prime Minister does not spell out a single word even after 53 days, the protestors said.
The protest was attended by around 100 people from different communities and religions from all parts of Pune. With deep concern over the ongoing violence in Manipur that has taken many lives and destroyed villages, the Manipuri groups demanded immediate action from the Central and State governments.
"We Want Peace in Manipur", "No Separate Administration", "Stop Hill Valley Divide", "Meiteis also need Constitutional Protection", "Meitei Lives Matter", "Stop Deforestation-Save Manipur", "Manipur is and will remain One", "Revoke SoO with Militants" were the slogans of the protest. The protest was a call for peace and unity and a rallying cry against any forces that threatens the cultural heritage and identity of the indigenous people. The voices of the people resonated through the streets of Pune, demanding justice and protection for Manipur.