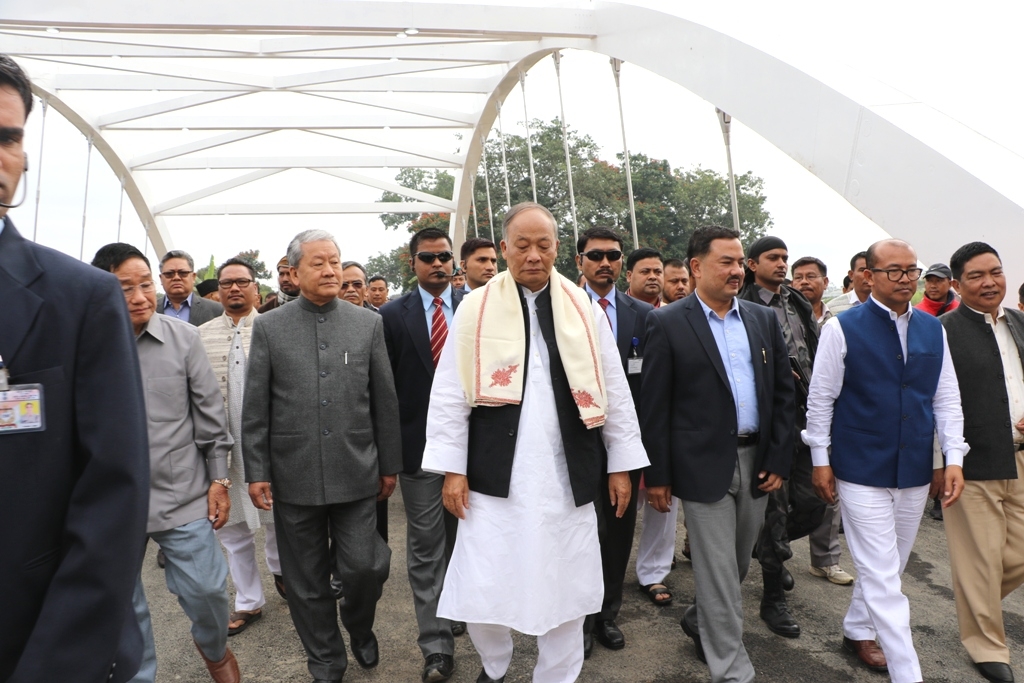 CM blames frequent bandh, blockade and other obstacle for the delay in completion of the Bridge
The much awaited Sanjenthong Bridge was inaugurated today morning by the Chief Minister of Manipur. The Sanjenthong Bridge which is the main link between Imphal East and Imphal West districts and built across Imphal River was being inaugurated after a delay of one year. Earlier, the Chief Minister Okram Ibobi Singh led Congress government had promised the people to complete the Bridge before last year Sangai Festival.
"Frequent bandh, blockade and other obstacles are the main cause for the delay in the completion of the Sanjenthong Bridge", Chief Minister Okram Ibobi said during the inaugural function of the bridge.
He said as the materials which has to be transported through the National Highways could not reached here in Imphal due to frequent bandh and blockade, there has been much delay in the completion of the bridge. Besides, the unexpected rains and other problems also hindered the construction works of the Bridge. The Chief Minister however expressed regrets over its failure to hand over the Bridge to the people on time.
The Sanjenthong Bridge is being inaugurated today in view of the upcoming Sangai Festival scheduled from November 21. Many components are still yet to be completed.
Reacting to the media assessment about the loss of around Rs.35 crores rupees while the construction of the Bridge estimated less than Rs. 30 crores has been constructed, Okram Ibobi mockingly said that such assessment are lessons need to be learnt by each and every government machineries but appealed the media to publish another similar assessment of the loss during bandh and blockade. Interestingly, the chief minister received applauses from the learned gathering while spelling out the appealed.
On the delay about the completion of the renovation works at Kanglapat, the Chief Minister blames the "unseen problem" as a factor that is hindering. He said unexpected rains once or twice in a week compelled to halt the ongoing works many a times. The renovation works is being conducted as preparation for the Sangai Festival.
Many are of the view that the unfinished works at Kanglapat is going to spoil the beauty of Imphal city.
Deputy Chief Minister Gaikhangam, who also attended the inauguration function, said that  Manipur is marching towards development and no power can stop Manipur from going forward.
So far around Rs. 20 crores has been spend to the construction of the Bridge, said Additional Chief Engineer of state PWD, Tenba. He said that more components of the Bridge are still yet to be completed. The Bailey bridge is the first of its kind in the entire North Eastern region, added the engineer.