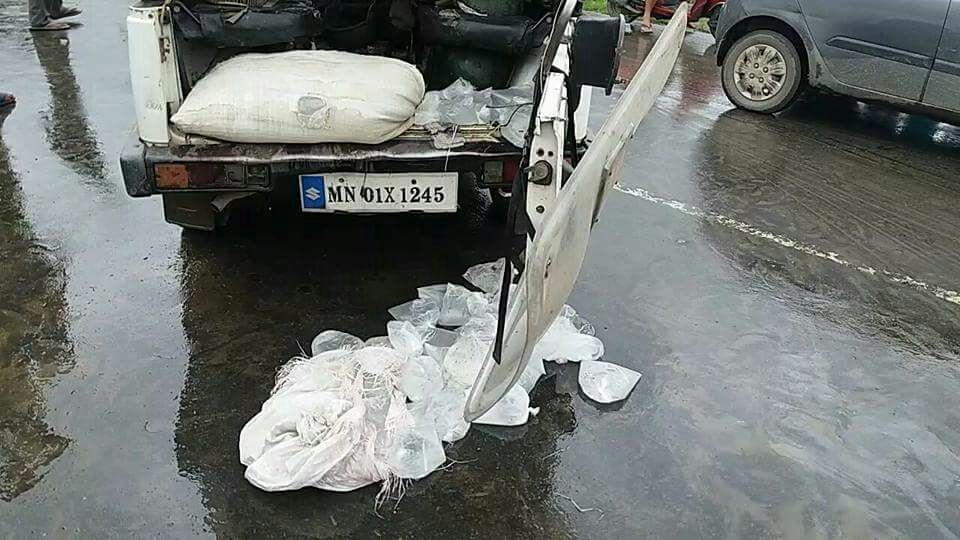 Are police vehicles utilised by bootleggers?
Imphal, Aug.19: A tragic road accident, but an exposure on the probability of police vehicles being used by bootleggers for smuggling of local brew for supply at various illegal liquor vendors in Imphal. The incident happened when the police department under the directives of the state government has been conducting drive on the sales of illicit drugs and liquors in and around Imphal city.
At around 10 am today, a speeding police vehicle (Gypsy, IW Team No. 2) coming towards Imphal from Sekmai side met a head on collision with a maruti wagnor car coming from the opposite direction at Khonghampat Mayai Leikai in NH- 2. Both the vehicles were severely damage but those inside the vehicles survived with minor injury.  The registration number of the Police Gypsy is MN O1X 1245 and the registration number of the ill fated Maruti Wagnor Car (blue colour) is MN01X6293.
People of the area gathered at the accident site and everyone were surprised to find the Gypsy loaded with plastic packs of local brew.