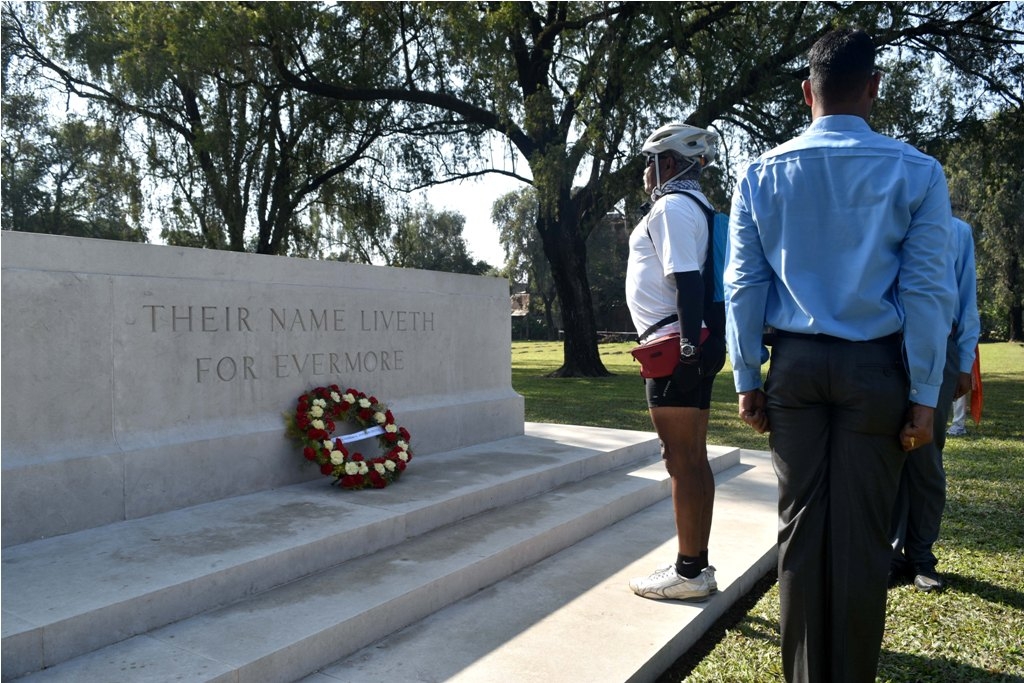 Imphal, Dec 3: On his cycling expedition to pay homage to fallen heroes of Army, Retired Major General of Army, Somnath Jha, VSM has paid homage to the fallen heroes today at Indian Army War Cemetery, Hatta, Minuthong after reaching Imphal.
Speaking to the media persons, retired Major General said that his aim and objective for cycling expedition is to pay homage to the fallen soldiers going and passing through all the 29 States of the Country as each and every soldier comes from every corner of the country.
Somnath Jha also said that on his cycling expedition he plan to complete the entire state of North-East, the 7 Sisters traveling to Dimapur from Imphal than Silchar, Mizoram, Tripura, Meghalaya and Gwahati. After cycling the 7 sisters of North East, the journey will continue through North Bengal, Jharkhand and so on, he added.
Somnath Jha further said that the cycling expedition is more than 12000 kms long journey which will last rest at New Delhi at Amar Jawan Jyoti (India Gate) by the late of April, 2017.
Somnath Jha was accompanied by some local cycling club of Imphal based on his journey reaching Imphal.
In his 37 years of service in the Army, Somnath Jha said that he have visited Manipur on his duty but have not been posted apart from some nearby state of NE like Jorhat.
Somnath Jha retired after 37 years of service from the Army on 30th September, 2016 and right after his retirement, began his cycling expedition on October 19, 2016 from Ambala Cantonment (his final post where he retired from his service) and till date, more than 2400 kms long journey has travelled through cycle.
Somnath Jha was felicitated by the members of Sainik School Imphal Alumna Association at Indian Army War Cemetery, Hatta, Minuthong where he pay homage to the fallen soldiers of the Army with garland and 2 minutes silenced.