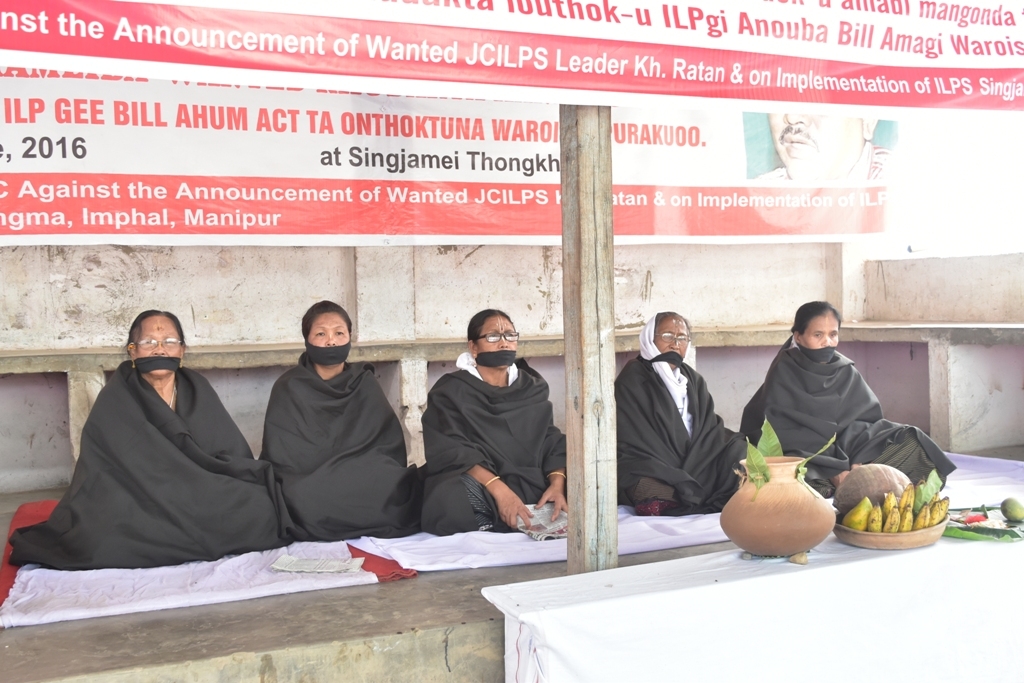 Imphal, July 19: With black badge wrap at the mouth, the relay hunger strike announced by the JAC against the announcement of wanted tag on JCILPS leader Khomdram Ratan and demand for implementation of ILPS in the state, Singjamei Wangma Bheigyabati Leikai, Imphal East has entered the fifth phase with Hidangmayum (o) Ibemhal Devi (75), Sanghakpam (o) Debala Devi (63), Bhramhachari Mayum (o) Memcha Devi (58), Langljam Purnimashi Devi (73) and Rk Helena Devi (42) volunteering to take on the relay hunger strike from 7 am today morning till 5 pm on the third day. Three of the volunteers are from Khongman Mangjil while two of them from Bamon leikai of Imphal East District.
On the other hand the sixth phase of the rely hunger strike will commence from 5 pm today evening with  Khomdram Surendrakumar (42) of Mongkhang Lambi, Irengbam Sharat (58) of Kongba Road and Oinam Riken Singh (40) of Bheigyabati Leikai of Imphal East will undergo protest till 7 am of tomorrow morning.
Meanwhile, speaking to the media persons, Lourembam Nganbi Devi, Ex-convenor of Women Wings JCILPS said that as today's hearing for the wanted tag on Khomdram Ratan has been adjourned tomorrow, she appeal the concern group to relax the 13 hour state wide general strike which has been called from midnight of July 20 for the free movement of families and JAC member.